If you're like me, then for one reason or another, you weren't able to make the trek to Belgium this year to experience the wonderment that is Tomorrowland. The annual festival in the city of Boom attracts hundreds of thousands of attendees over the weekend – and since its return to two weekends this year, that number likely doubled.
However, more than the people attending the festival in person, it was the amount of people watching on their computers and TVs from home that made this year's festival noteworthy.
Over 200 million unique people were involved with Tomorrowland on social media this year, establishing 1.2 billion points of contact. Adding in the posts, content, and live broadcasts featured on the artists' social media – plus all other media, visitors and fans covering the festival – would easily multiply those numbers.
"Tomorrowland became so much more than a festival," says Armin van Buuren, one of the festival's headliners. "It's an amazing feeling to know that while you're getting goosebumps at the MainStage in Belgium, literally millions of people around the world are watching my performance, even organizing home parties and having an amazing time as well."
"I've been playing each year at Tomorrowland since the first edition and have seen it get bigger and bigger, growing into one of the most beloved electronic events in the world," adds David Guetta. "But this year was not only about how big it was… I felt what I felt the first time I played, something that cannot be explained in words or seen on a video: the magic of this festival! Not only has the growth of the event itself been amazing but also the content that they produce, like the live registration and after-movie. It just gets better and better each year. I think it's great that people at home can watch the livestream and experience the festival as if they were there themselves."
Tomorrowland connected the world by using a multi-channel live stream through its official website and app. On top of the MainStage and Freedom Stage, two other stages were captured on a daily basis, focusing on a broad range of musical styles and hosts including Trance Energy, Monstercat, Drumcode, Paradise, Refune, Q-Dance, Smash The House, The Masquerade, A State of Trance, Diynamic, Axtone, Heldeep, Ants, Elrow, and many more.
"Most festivals mainly focus on the biggest stage," says Solomun. "It's great to see that Tomorrowland successfully develops a place for all subgenres of electronic music for fans and the industry."
Facebook and Instagram are the two biggest traffic drivers for Tomorrowland. Throughout the festival Tomorrowland went live to deliver full sets and created exclusive Instagram Stories with festival highlights.
"Working with the DJs, and capturing the enjoyment of the visitors, Tomorrowland created authentic and engaging content for Facebook Live and Instagram Stories, to bring the millions of music fans from around the world even closer to the festival," says Glenn Miller, Entertainment Partnerships for Facebook in EMEA.
"The love for electronic music is really booming in Asia and more specifically in China now," says Dimitri Vegas, resident DJ of the festival for many years. "Those new markets are discovering and embracing this culture and are now heavily tuning into the event online as well."
Because China has its own digital ecosystem, Tomorrowland partnered with Tencent to bring the magic there. Unique viewers and reach increased 2.4 times as compared to last year. "It's a crazy idea that people in Shanghai and Beijing are watching our performance on the subway, at home, or maybe even at work," Dimitri adds.
A Tomorrowland Snapchat "Our Story" was made available to users around the world in six languages. More than 77 million Snaps were watched by over 4.3 million Snapchatters.
When the festival season is over, the content definitely is not. Last year, Martin Garrix premiered his new single 'In The Name Of Love' at Tomorrowland and the video was put on the festival's Facebook page a few weeks after. This post has become Tomorrowland's most popular ever and is still going viral, with an unbelievable 1.5 million shares and 480 million impressions.
Besides the content on its own channels, the festival was broadcast live on radio in the USA, India, China, Belgium, France, Germany, Austria, Dubai, the Netherlands, Romania, Ireland, Italy, and Spain and on television in Belgium, Italy and MTV's global network.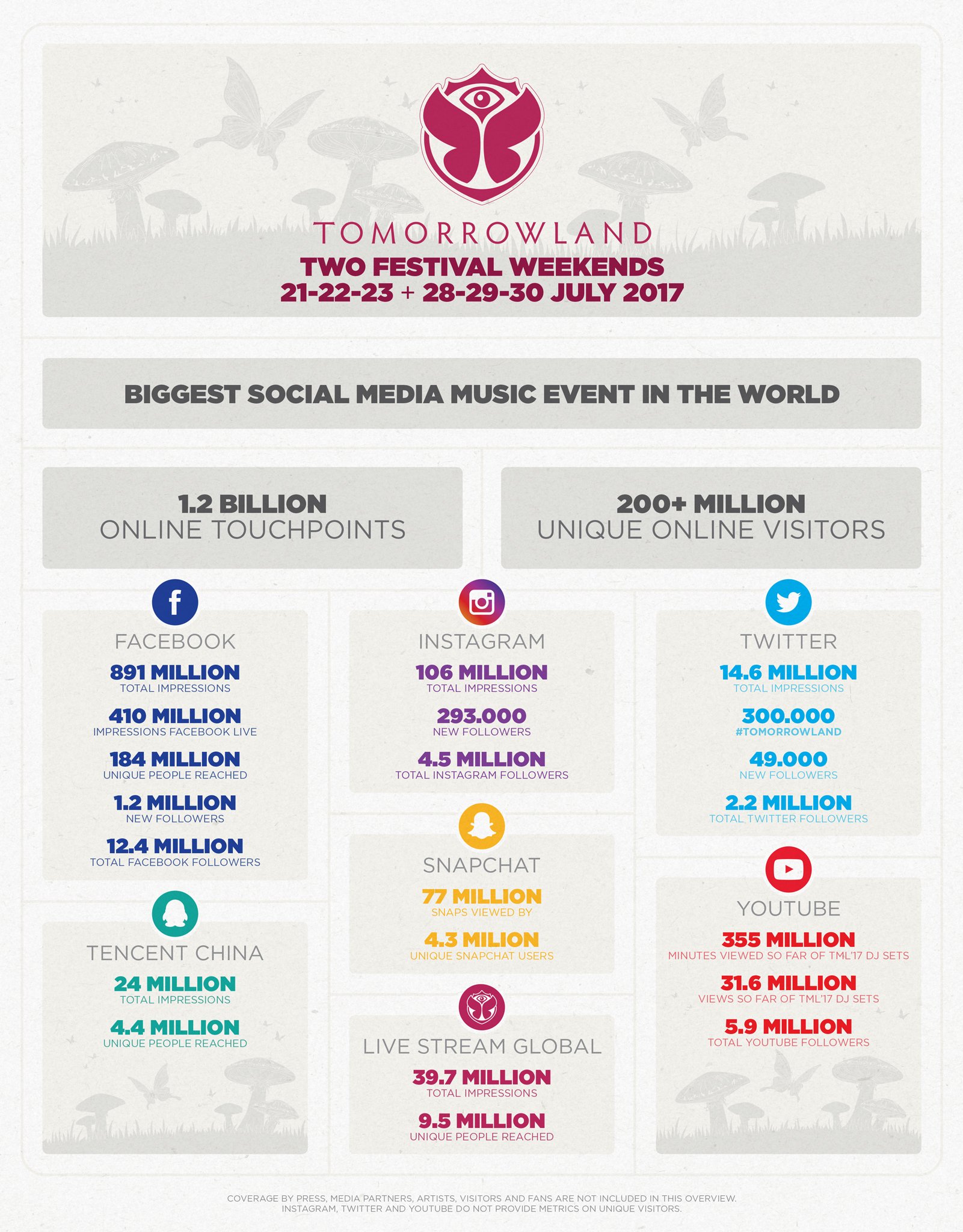 The long-awaited 2017 after-movie will be released in the first half of September.
Most of the DJ sets from all the stages are now available at 365.tomorrowland.com and YouTube.