As everyone out there knows, Coachella is arguably the biggest, most prestigious music festival in the world. However, one of the more amazing feats that Coachella is able to pull off is that Weekend 2 is always completely different from Weekend 1 with its own unique vibe. The hype train has dissipated considerably, the special guests are totally different, and the crowd has much more of a workman-like vibe to it. You'd be hard pressed to find anybody who goes to Weekend 2 of Coachella as their first festival. For me personally, this was one of the smoothest Coachellas I'd ever experienced.
As we covered in our Weekend 1 review, Coachella is a well-oiled machine, and it's production, organization, and logistics are second to none. This all seamlessly transitions over to Weekend 2, so, in this review, we'll talk more about the musical acts and how they all fit together in the larger construct of Coachella. My group set out bright and early on Friday, arriving at the festival grounds around 1:30. While some braved the brutally long line of the merch tent, I did what any good EDM fan would do and went straight to the Sahara tent.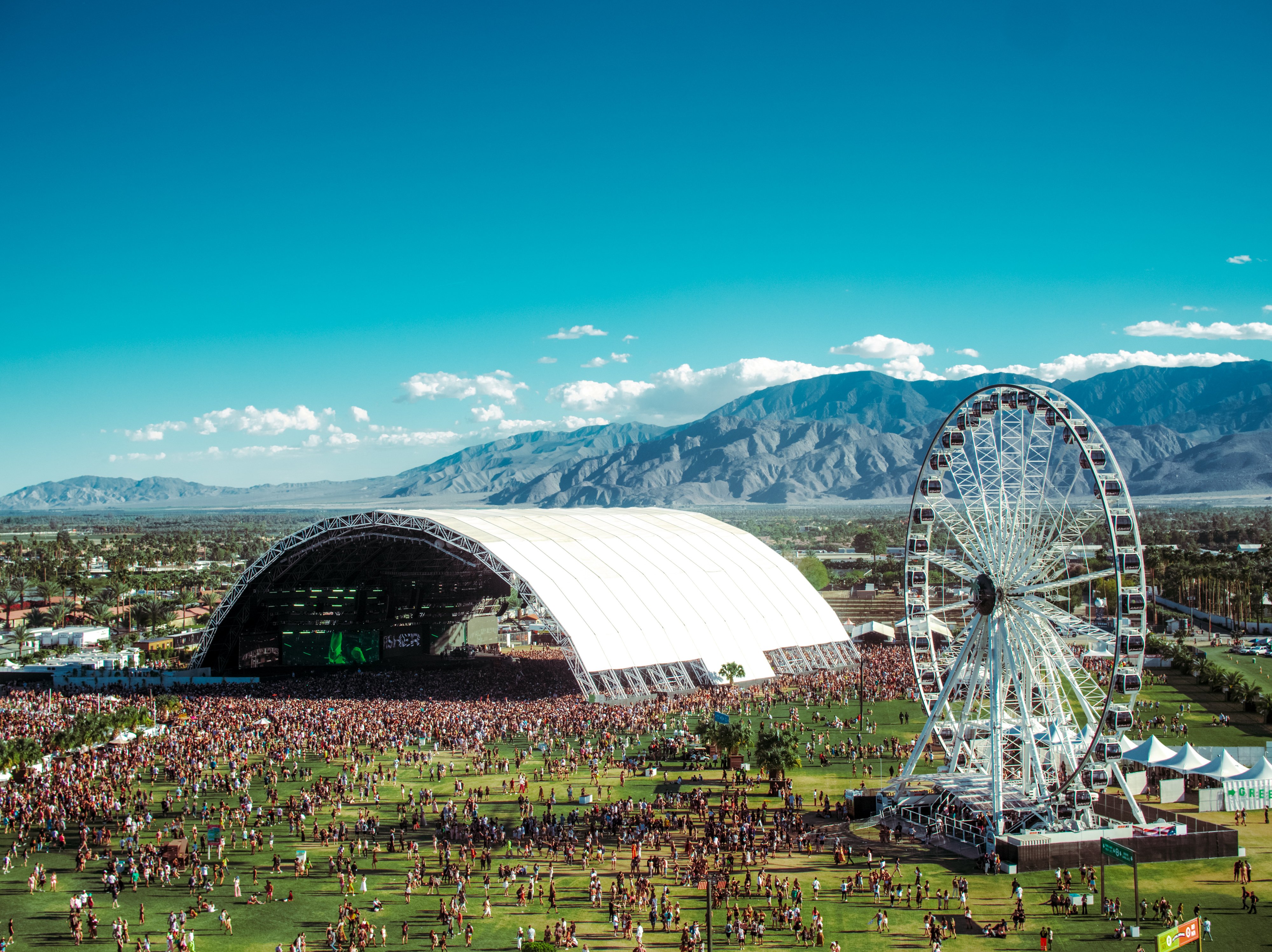 Coachella took it to the next level in the Sahara tent this year, with an incredible new redesign that recalled the wild visuals of the old Sahara. Last year, the venerable EDM tent got a much need expansion, but the inside of the structure was pretty much just one huge LED screen. This year, the Sahara was adorned with balloons all across the structure's ceiling and new moving lights along the top and bottom of the stage. There was also a circular LED wrap at the top of the stage too to give the Sahara a bit of the Coachella stage's feel.
Anna Lunoe was the first set I caught, and she played a fun and bouncy set as she bobbed up and down inside her booth on stage. She tried to sing on a couple of tracks too, but the mic was not cooperating with her. However, Anna played an absolutely perfect set for any EDM fan to get their Coachella weekend started with. Up next in the Sahara, was the Daddy Shark himself, Jauz. Sidenote, how in the hell was Jauz scheduled at 3:50 in the afternoon? Needless to say, the crowd size increased considerably for Jauz. Although he was about 15 minutes late, he packed an unbelievable amount of energy and Jauz classics into his set. His stage design also included moving the DJ booth of the stage and into the air with the use of a crane-like apparatus. Jauz did not disappoint.
While the Sahara got even more crowded for FISHER after that, I ventured over to check out country artist and reigning album of the year winner Kacey Musgraves at the main stage. I won't dive too deep into Musgraves's performance since she's not an EDM artist, but country felt very out of place on the mainstage, especially in the sweltering heat of that particular time slot (5:50 PM). After the sun went down, the stages and performances started to come to life. RÜFÜS DU SOL put on an amazing performance to a massive crowd at the outdoor theater. Their album Solace was our top album of 2018 over here at Your EDM and it slaps live, I was thoroughly impressed by RÜFÜS.
From there I caught Diplo's Sahara Tent set from the comfort of the beer garden. The Mad Decent head honcho dropped a top notch set, that was way more vibes than bass. His side projects Silk City and LSD were well represented throughout his hour set, less twerking and more grooving, made for a killer and unique set by Diplo. After that it was back to the Outdoor Theatre for DJ Snake. The Frenchman took no prisoners as he dropped a vicious set of dubstep, bass, and trap. It was absolutely wild as the crowd headbanged the night away.
Childish Gambino closed out the night and he delivered a fun and funky set. Like Week 1, he was shirtless wearing sweatpants like in the "This is America" video. While Donald Glover crooned on the mainstage, EDM fans started venturing back over to the Sahara tent to catch Kayzo's set. Kayzo had a full band setup on stage as he was joined by Alex Gaskarth from All Time Low among other special guests. Kayzo seamlessly blended his DJ set with a full on metal/punk show. The new Sahara design was seemingly made for this moment as the lighting perfectly bridged what's necessary for both rock and dance music, an absolute highlight for sure.
Day 2 was a bit lighter on dance music, but it was not without its highlights. I started the day off with L.A. pop-punk-ska band The Interrupters at the Outdoor Theater. Along with temperatures that were 10 degrees cooler than Friday, this was an absolutely perfect way to start the day. Again, not to dwell on non-EDM acts, but the Interrupters were a blast and a throwback. Had they been around in 2006, they certainly would have been one of the most popular bands on KROQ.
From there, I made my first trip to the Do Lab. It was slightly expanded from years past, but had the same overall design and vibe. The Do Lab has always been a place for people in the know to check out a totally separate part of Coachella. The lineup is often comprised of up and coming artists, but surprise guests are a staple of the Do Lab, and sometimes, you get huge special guests who pop up, like Major Lazer Weekend 1. Sadly for me, there would not be any special guests quite the caliber of Major Lazer (sorry, Nina Kraviz and Four Tet). That sure doesn't mean that the Do Lab wasn't a nice respite from the rest of the festival. I used the Do Lab to escape the madness of the main festival and to catch my breath. I feel like that's what most everyone there was doing this year, at least my weekend
After fully recharging at the Do Lab, I headed back to the Outdoor Theatre for Bob Moses, which might be my choice for most pleasantly surprising set of the night. There was a lot of good live EDM on the lineup this year, and for me, Bob Moses kind of epitomized it, because it so exceeded my expectations. They went way harder than I thought they would, but still gave me the songs I wanted to hear. The highlight of their set had to have been a live cover of the legendary Prodigy song "Firestarter." I also got up much closer to the stage and was able to appreciate the setup and visuals of Outdoor Theatre. There were small LED pillars lining the stage and it created a nice effect.
I joined up with some friends for some of Weezer's performance, and it was awesome. Weezer played all of their old school classics, and the main stage's visuals really started to take over. In fact, for the first time that I can remember, there were lasers on the Coachella Stage. Like, I mean, Eric-Prydz-at-EDC level lasers on the main stage (more on that later). The enjoyment at Weezer was to be short lived because I had to make a journey to see a dance music legend: Aphex Twin.
Wow, all I can say is, those warehouse parties in the 90s must have been frickin' wild, because Aphex Twin took us to another dimension. With gnarly buildups, tons of acid and house beats, a killer low-end and a vibe like no other, Aphex Twin delivered for the crowd who caught him closing out Mojave Tent. While Aphex Twin had his distinctive weird/distorted/tripped-out visuals flashing on stage with pulsating lasers, all I could think of is, wow, so this is what it was like in the old days. This set was more spectacle than anything else, I don't even remember dancing during the set, just being wowed by the incredible visuals and noise modulation that was happening in front of me. Dance music has come a long ways since Aphex Twin's heyday, but it was nice to be reminded of the rave roots from whence it came.
From there I went back over to the main stage for psychedelic rockers, Tame Impala. All you need to know is that the lasers I mentioned before went off for their signature song "Elephant." After Tame Impala, there were two choices, Kid Cudi at the Sahara Tent or Bassnectar at Outdoor Theatre. I made the wrong choice and went with Kid Cudi. As I made my way over, the crowd was already overflowing outside the tent well towards the beer garden. As the set opened, I immediately recognized the voice, Kanye West was on stage performing. Thankfully I have a good ear, because I sure couldn't see anything. I retreated to the beer garden and kind of listened to the set, but even the viewing area of the beer garden was ridiculously packed. This must have been an incredible experience if you were able to see the stage, I was not able to.
The final day of the weekend was short and sweet for me. My group took our time getting in, but, for myself, I got well in time for the acts I wanted to see. If you're reading on this website, you know I'm talking about Zedd and Dillon Francis. Zedd earned himself a prestigious spot on the Coachella stage at the sunset slot. Zedd played an uptempo and energetic mix of his hits and brought out special guests Alessia Cara and Maren Morris, absolutely perfect for the Coachella crowd. Zedd's stage and visuals were simply amazing, instead of standing beside a blocked table, Zedd was standing inside a round LED rig, that essentially emulated him flying in a spaceship. The massive LED screens of the Coachella stage played bright and vivid visuals that took the crowd from daytime to nighttime and just basically highlighted how big of an artist Zedd is.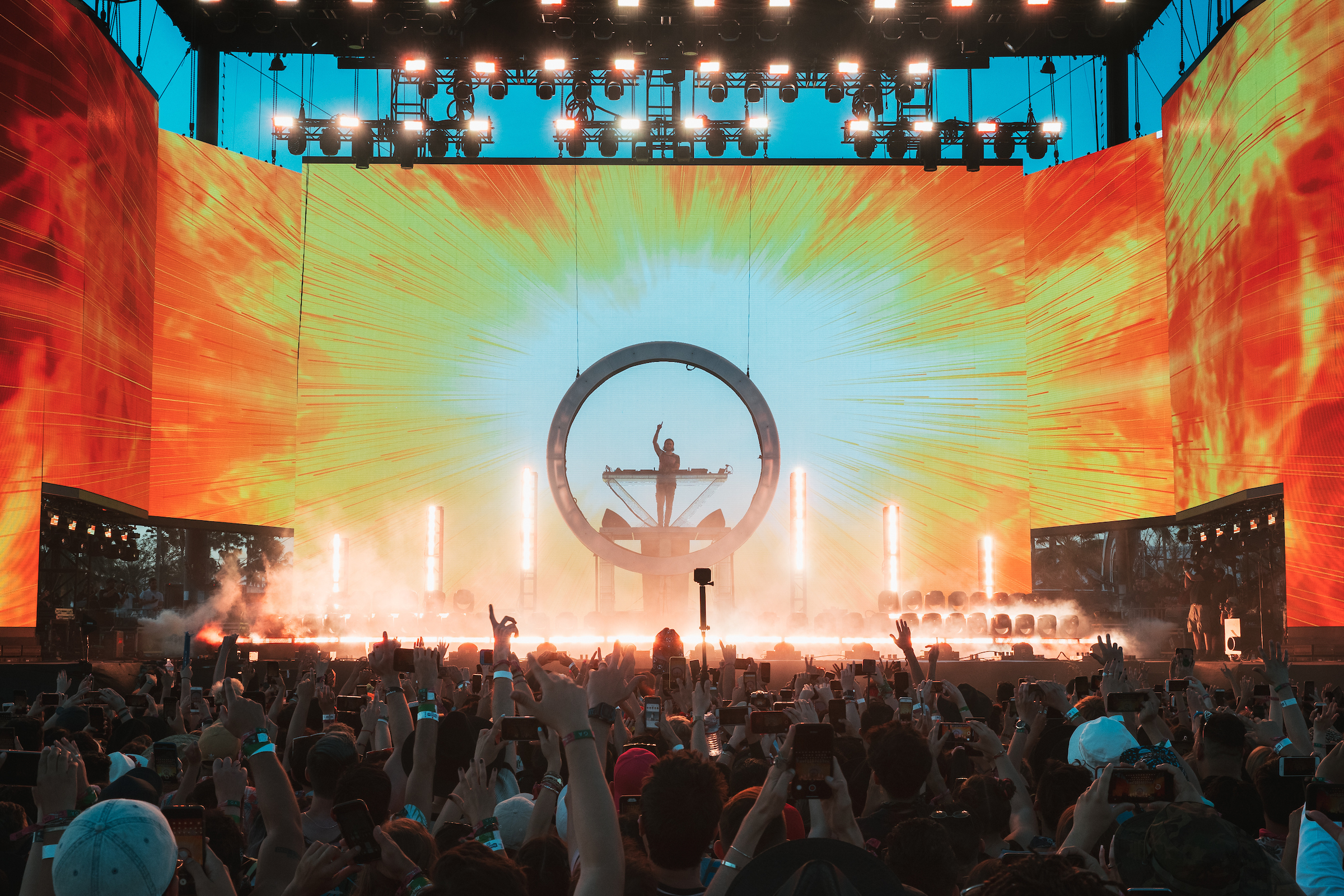 Unfortunately, I somehow missed Gesaffelstein, but I made up for it and went dead center in the Sahara Tent for Dillon Francis's set. Dillon played one of the best sets I've ever seen from him, as he unleashed tons of IDs and mashups. Old school Dillon fans had to have enjoyed it the most as Dillon dropped a set that consisted much more of house, electro, and moombah, as opposed to trap and dubstep. I'm also glad to report that Gerald survived on stage and didn't get torn to shreds by the crowd. As always, Dillon showed why he is one of the most reliable names in the game. Dillon is like James Harden or Kevin Durant, you think you've got him figured out, and then he hits you with something new, and you're like, oh yeah, this guy is fucking amazing.
After Dillon, I headed over to the main stage for some of Ariana Grande. She was fine, Ariana is an incredible singer and vocalist, and a great songwriter as well. However, she is not the caliber performer of say, Beyonce or Taylor Swift, heck, even Katy Perry. Instead of the N'Sync reunion that happened Weekend 1, Weekend 2 attendees got an awkward guest appearance from Justin Bieber. Through no fault of her own, Ariana's performance will probably not go down in the annals of Coachella mythology.
Oh yeah, I watched NGHTMRE close out the Sahara after that, he was dope, Slander came out and it became Gud Vibrations, the sky is blue and the grass is green. And just like that, Coachella was over. All in all, it was another incredible weekend in the desert. There were no great epiphanies or revelations, Coachella reigns supreme as the premiere music festival in the US, that's not changing anytime soon. This year's lineup was one of the most fun and diverse since I've been going to the festival, and hopefully it continues next year. Another great thing about Coachella, there's no doubt, I'll see you next year in the desert.
All photos courtesy of Coachella unless otherwise specified