These days, the words 'music festival' bring to mind images of sprawling compounds, a long journey, and enough tents to fill a small city. And while we absolutely love that style of partying, it's far from the only way to do it. What if a festival was taking place right in your own backyard; not just in a field your town has to offer, but as a part of the town itself?
For Bay Area locals, that idea has become a reality in the Santa Cruz Music Festival. A joint effort between Euphoric Styles, Good Times, and a host of other Santa Cruz organizations, SCMF will transform the iconic Pacific Avenue in downtown into a gathering of music and art comparable to none. Attendees will have access to 15 stages spread across over 12 venues, including the Blue Lagoon, MOTIV, and the quintessential SC concert hall, The Catalyst. The talent ranges from local to larger than life; over 70% of these DJs and producers are from around Santa Cruz County, while the headlining performances include legendary acts like RJD2, Delhi 2 Dublin, and Pep Love. Phase 2 of the lineup was just released earlier today, adding stellar artists like Mihkal, Psymbionic, Magic Bronson, and TV Broken 3rd Eye Open to the already eclectic assortment of musicians. And there's still more to come!
So, if you're looking a new way to experience a music festival, SCMF is where you want to be this October. More info on what you can expect, as well as the full lineup (thus-far) can be found after the jump; we hope to see you on the dance floor!
Santa Cruz Music Festival
Facebook || Website || Twitter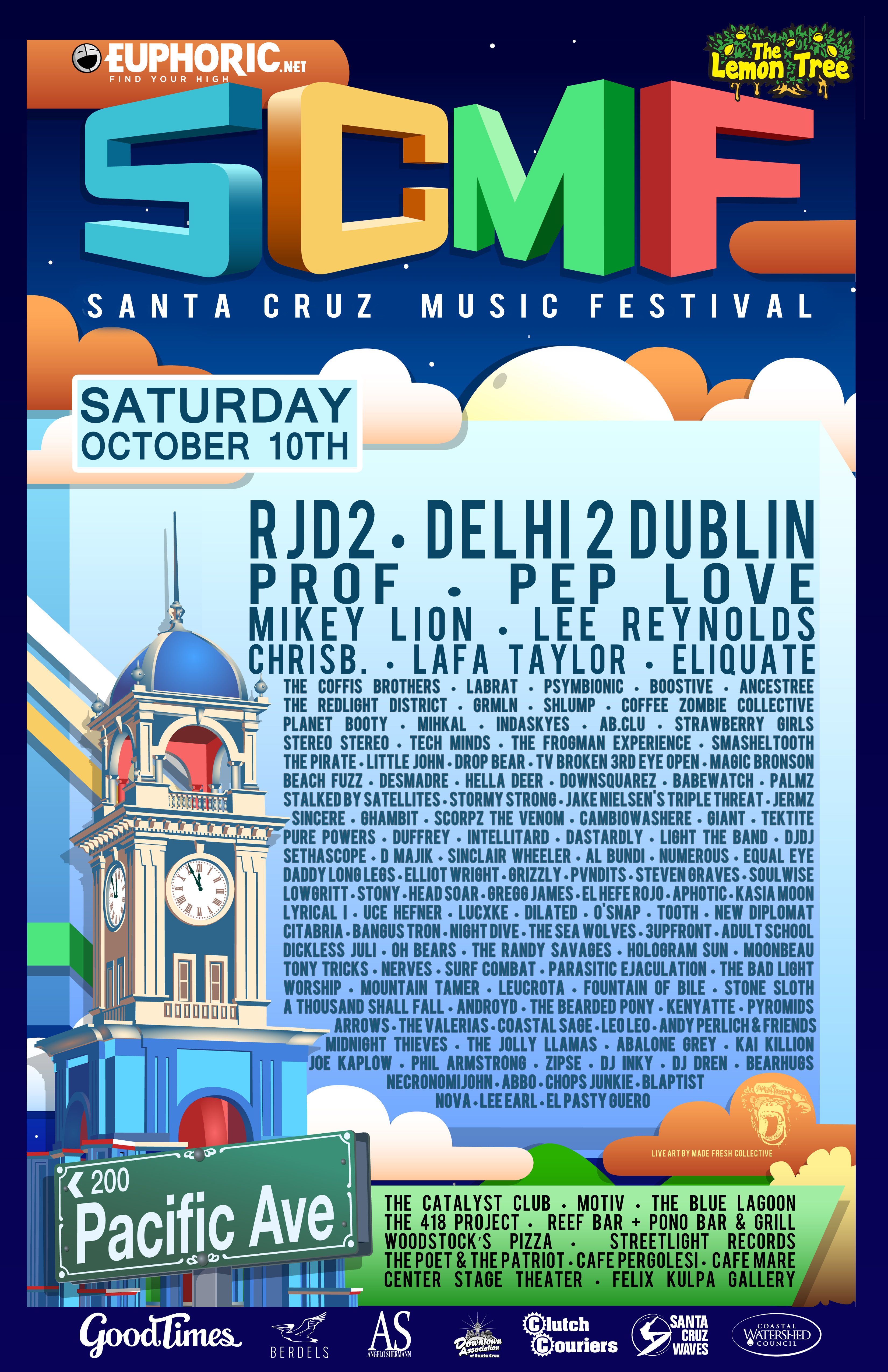 SCMF Features:
12:00pm – 1:00am, October 10th
12+ venues, 15+ stages all within easy walking distance
Panel Discussion featuring topics such as: State of Santa Cruz, Sustainability, Music Industry, Cannabis
Interactive art walks brought to you by SC's own Made Fresh Collective
Located just one mile away from the historic Santa Cruz Boardwalk