Serenity Gathering: a bastion of silliness, sauciness, and pure intentions if there ever was one. We've had the pleasure of watching this independent, 'mom & pop'-style festival grow and find its place in the scene over the last three years; needless to say, it's been quite the journey. And while they still have some searching and growing to do, we can honestly say they never fail to deliver a unique and loving experience. This year was certainly no different; though there were some logistical issues to be navigated, good times were had, good music was heard, and good people were met. Sometimes, you just have to believe in the magic for it to find you.
Now, we want to share our experience; whether you attended and want to relive the memories or you're a prospective attendee looking for that final push, this is for you. We'll start with this brilliantly crafted (and appropriately magical) recap video of the event, courtesy of the lovely people at Euphoric Styles; read on for our full review!
Serenity Gathering 2016 Teaser Recap from Serenity Gathering on Vimeo.
Videography: Michael Daniel
Photography: Jacob Avanzato & Brian Crabtree
Though our experience at Serenity Gathering 2015 had been hectic at times, it still managed to go down as one of our favorite festivals of the year. So, it goes without saying we were supremely stoked to see what they had in store for us this time around. Watching the lineup come together only solidified our excitement; there were lots of familiar faces, artists we'd come to call friends, and just enough new blood to keep things fresh. We were ready for whatever, and hoping for the best.
However, despite our high hopes, misfortune continued to follow this festival and its devoted crew. The move to Joshua Tree, though welcome for its scenic vistas and huge capacity, was both unexpected and very last minute. Changing the entire logistics plan of a large scale event like this is no easy task, especially with only a month to do so. We'll be the first to say the festival not getting cancelled outright is tantamount to a miracle; nonetheless, organizational hiccups abounded throughout the weekend.
Some of the disorganization was familiar from last year's Gathering: issues with credentials at the box office, unannounced gate closures, and a lack of distributed schedules for music and workshops all provided their own challenges for various attendees. Fortunately, our festy family are no slouches; most were able to keep their chin up and make their way onto the grounds for a weekend of fun in the sun. We also eventually found some posted set times, but those didn't end up helping quite as much as we'd hoped; there were plenty of problems unique to this year's event to traverse as well. Sitting high at the top of the list was a continuously worsening bout of off-schedule performances. Multiple sound system issues on multiple stages led to numerous and lengthy sound checks, pushing set times further and further away from their original slots. And there was precious little time to spare, as the property sat too close to a neighboring town to procure permits for night-long, bass-fueled shenanigans. This led to the reorganization and shortening of several artist's sets; some didn't get to perform at all, and still others chose not to perform.
While that's a bummer on either front, admittedly, we understand their decision. After night fell and the main stage's massive Funktion-One stacks were shut down each evening, the New Moon and Bridge Family stages were only allowed to play music at an exceedingly low level; considering the bass in all its varying forms is a fairly integral part of this music we love so much, that was particularly rough to deal with. That being said, however, the artists that did choose to see their sets through on the quiet systems gave it their all and have our utmost respect. They made the most of a tough situation, which can basically be said for the attendees and all members of the crew as well; because (pay attention now, this is important), despite all the unexpected complications and hang-ups, we still had an absolutely fantastic weekend.
In spite of the monumental task set before them, the festival's crew and volunteers worked tirelessly to ensure serenity reigned over the chaos. Whenever an issue arose, it was handled as quickly and diligently as possible. And, all issues aside, there were multiple improvements over last year to be happy about: the venue was easy to navigate and stunningly gorgeous, the vendor village was much more well organized, and there weren't a dozen renegade stages all playing over each other (and waking us up at 7am). Plus, the added space in the main compound allowed room for multiple geodesic domes and mystical wooden art installations. Within these alien yet familiar structures, all sorts of lectures and workshops now synonymous with the 'transformational festival' circuit were held; everything from acro-yoga to sound healing was represented.
And we haven't even mentioned the music yet. Though the nights were a bit difficult to acclimate to, there was no shortage of sonic stimulation throughout the days and evenings. In fact, one of the highlights of the weekend came during a 3-hour midday block on Friday, as we bounced and gigged to the sounds of Filibusta, LabRat, and Big Wild, one after another. All three were wonderful, but Big Wild stole the show in our book. His performance was almost entirely live and infectiously groovy; it was one of the best performances of the festival, hands down.
Other treats we were glad were early enough to be loud and raucous included performances from French bass-mistress, CloZee, and a surprising appearance from Andreilien's drum & bass side project, Iterate. And, funnily enough, our favorite set from the event only happened because of the off-kilter scheduling. One of Del the Funky Homosapien's supporting acts couldn't make it, and you'll never guess who stepped up to fill the time: Rudeboy Noize, the unstoppable new collaboration from Trevor Kelly and Shlump. Hearing monstrous, grimy bangers on a prime sound-system like that just warms our hearts, especially juxtaposed with a largely melodic, 'conscious' lineup. The boys held nothing back and the crowd responded in kind; it was straight insanity. On top of it all, Santa Cruz dance troupe, Robotic Gypsy, provided various styles of movement to visually enhance the music.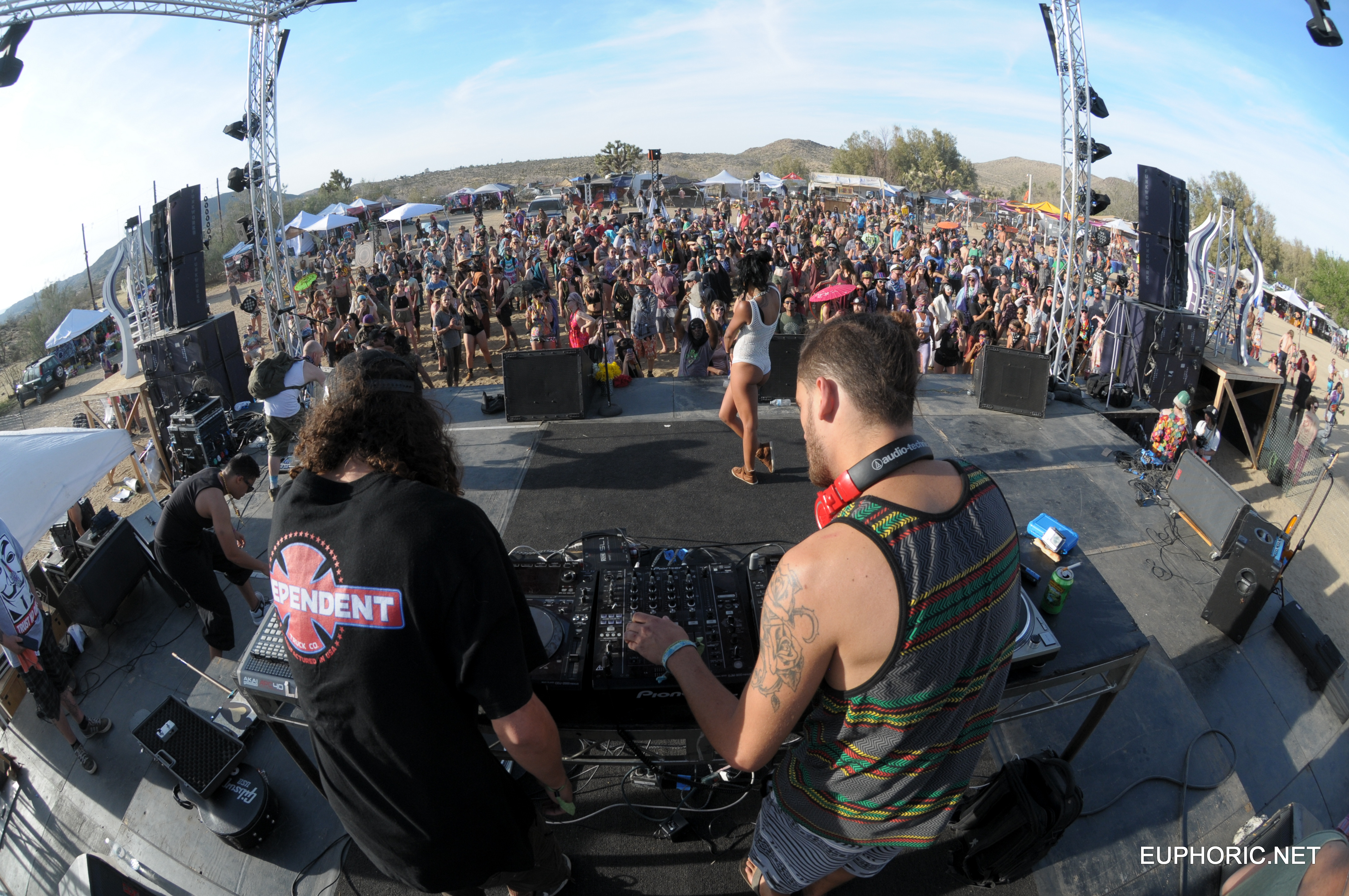 Above all, diversity is key. So, we were quite pleased to see such quality live bands on the bill as well. Boostive held it down during their midday set with flowing reggae beats and untold amounts of good-vibes. After night fell, epic sets from jam bands like The Brother's Gow and TV Broken Third Eye Open kept us movin' and grooving' whenever the main stage got too intense. We were also introduced to bands like Soul Scratch and Full Melt, who we strongly recommend giving a listen. Last, but far from least, was a supremely soothing show from Nahko and Medicine for the People. It was our first time seeing them and they were excellent; after witnessing so many DJs perform, it's always a lovely change of pace to witness the execution of a multi-member live group.
On top of the music, vendors, and workshops, Serenity Gathering always manages to attract a particularly loving, patient, and open-minded community; the 2016 crowd was no exception. No matter what happened throughout the weekend, it seemed nearly impossible to dampen their spirits for long. Anywhere we cared to look, there was an abundance of smiling faces and adventurous individuals. Painters, crafters, flow artists, crystal traders and many more all found common ground among the cacti and shrubs. This was clearly a place where people felt comfortable coming out of their shells. Perhaps the landscape had something to do with it as well; it was hard to feel anything but wild and free within the massive expanse of desert Joshua Tree inhabits.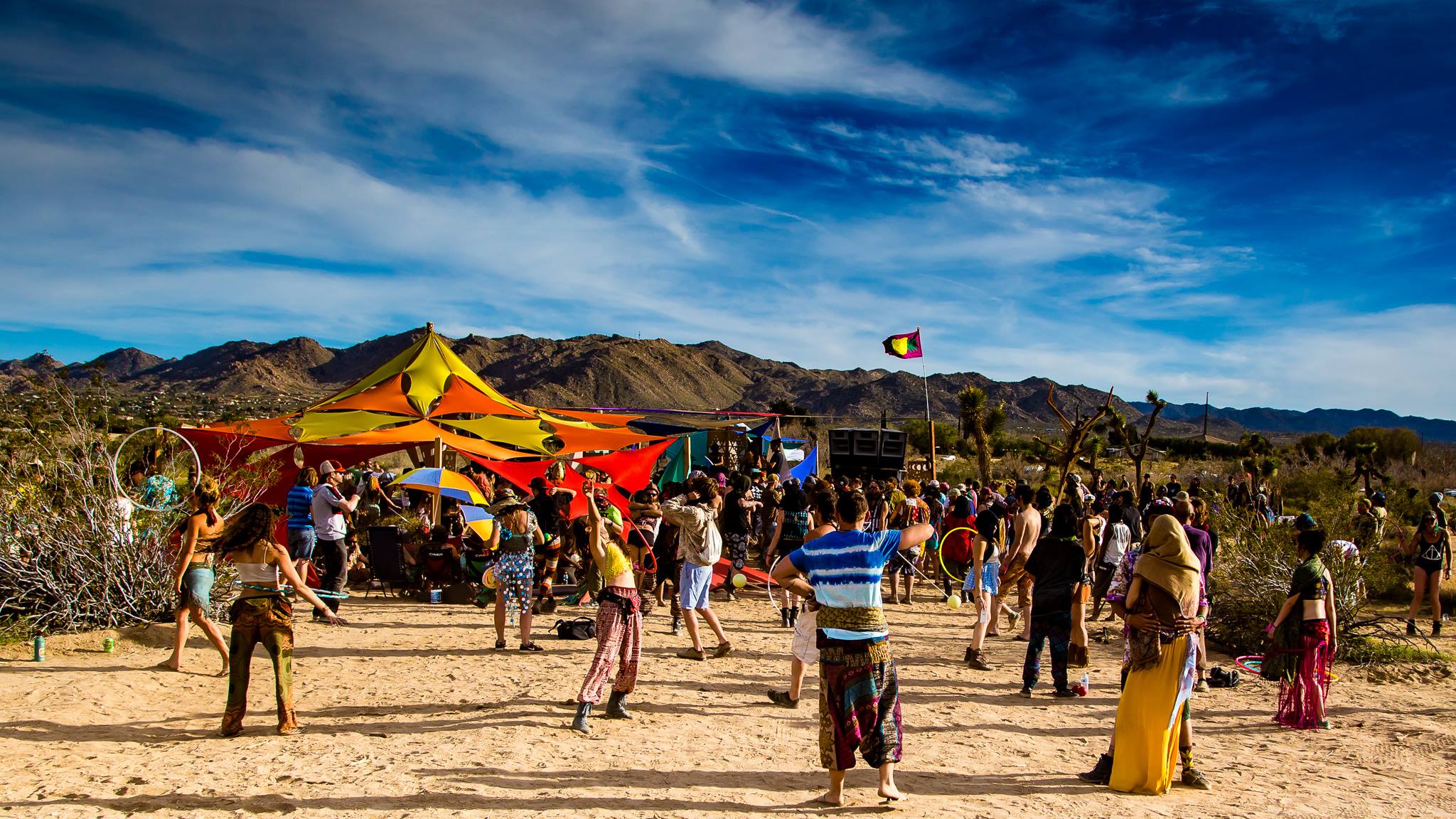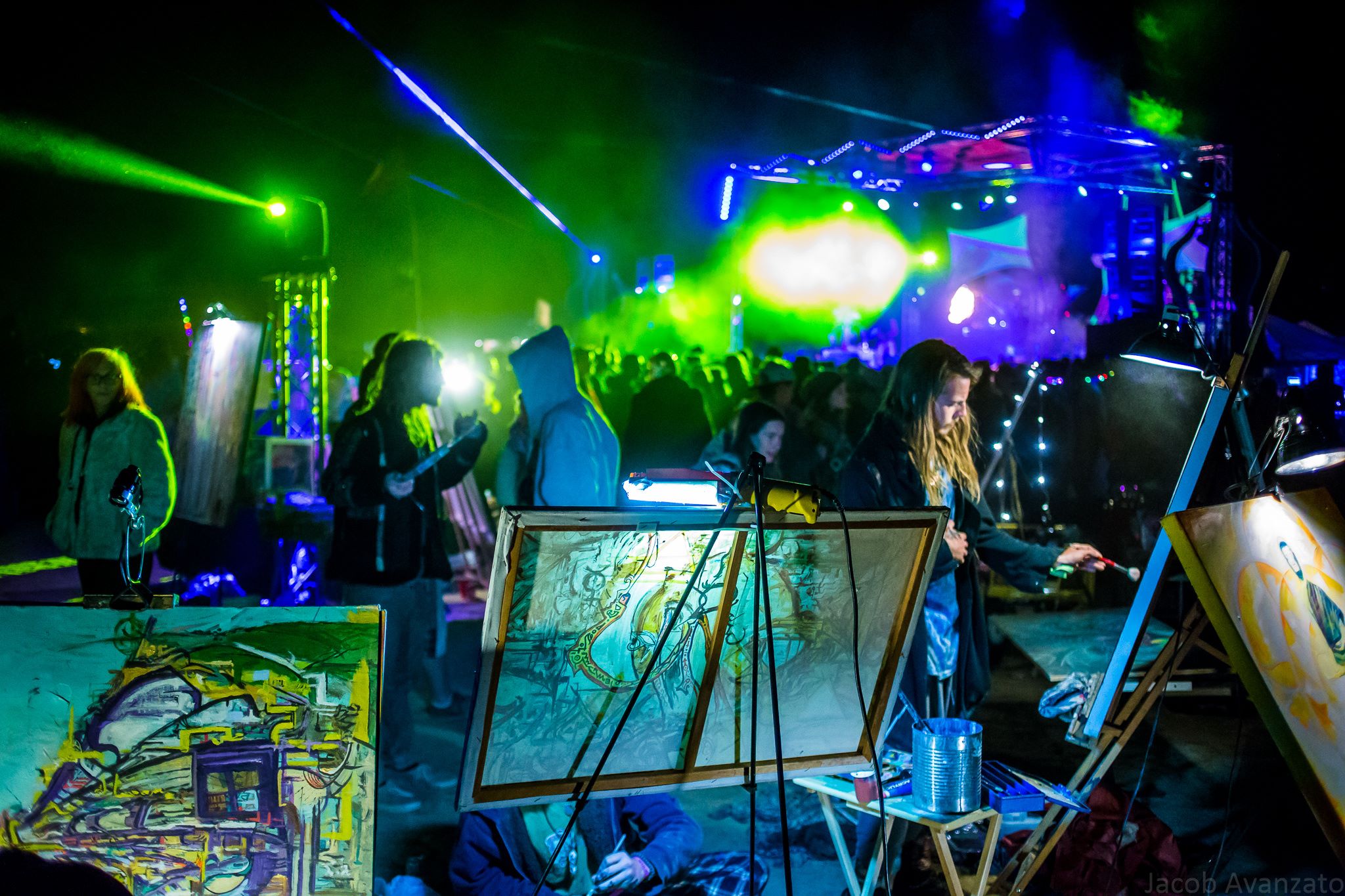 All in all, it was an excellent weekend in the company of wonderful people. The disorganization made this festival an almost collaborative endeavor between the crew and the attendees, which is a truly unique experience. It may not have been exactly what we were looking for, but we certainly got what we needed. We truly hope that Serenity Gathering returns bigger and better than ever next year; when the Press Lounge is hosting a taco and tequila bar, you know you're somewhere special. Until next time!