Halloween, that wonderful time of the year when everyone gets to unleash their inner ghoul or goblin (or Pikachu, or Mario brother, or Harley Quinn, etc.). Halloween is a time to party, so what better occasion to throw a music festival? That's what Insomniac did for the sixth year putting on its massive Escape: Psycho Circus event at NOS Events Center in San Bernardino, California. The 100,000 or so headliners who made their way to Escape last weekend were treated to an absolutely stacked lineup featuring heavy hitters such as Hardwell, The Chainsmokers, Kaskade, Jauz and Eric Prydz. The killer beats are only part of the attraction at Escape where 90% of the headliners were dressed in all their Halloween best.
The layout of the festival was more or less the same as last year with a few changes. Headliners walked into the National Orange Show Center and were greeted by the serene man-made lake in the center of the grounds. Headliners could make their over to the Chopping Block, home to Bassrush on Friday night, or Cannibal's Tea Party which was hosted by Factory 93 all weekend. Adjacent to those stages was the expanded Ghouls' Graveyard, now inside a larger mega-structure and boasting an elevated stage, reminiscent of the new Circuit Grounds at EDC Las Vegas this year. Oh, and the lasers were something to behold, although Ghouls' Graveyard is the second stage, its production might have been superior to that of the mainstage.
Speaking of the mainstage, the Slaughterhouse also got a bit of a makeover this year. The stage was the same with the DJ booth located inside the mouth of a killer clown and the words Psycho Circus adorning the stage. However, instead of the usual cylindrical design of a typical-mega structure, the roof of the structure was designed like a circus tent.  Helping to hold it up were massive pillars encased in lighting panels that played all sorts of cool visuals during sets.  There were also big screens set up outside the Slaughterhouse for those not able to make it in for some of the more crowded sets of the weekend.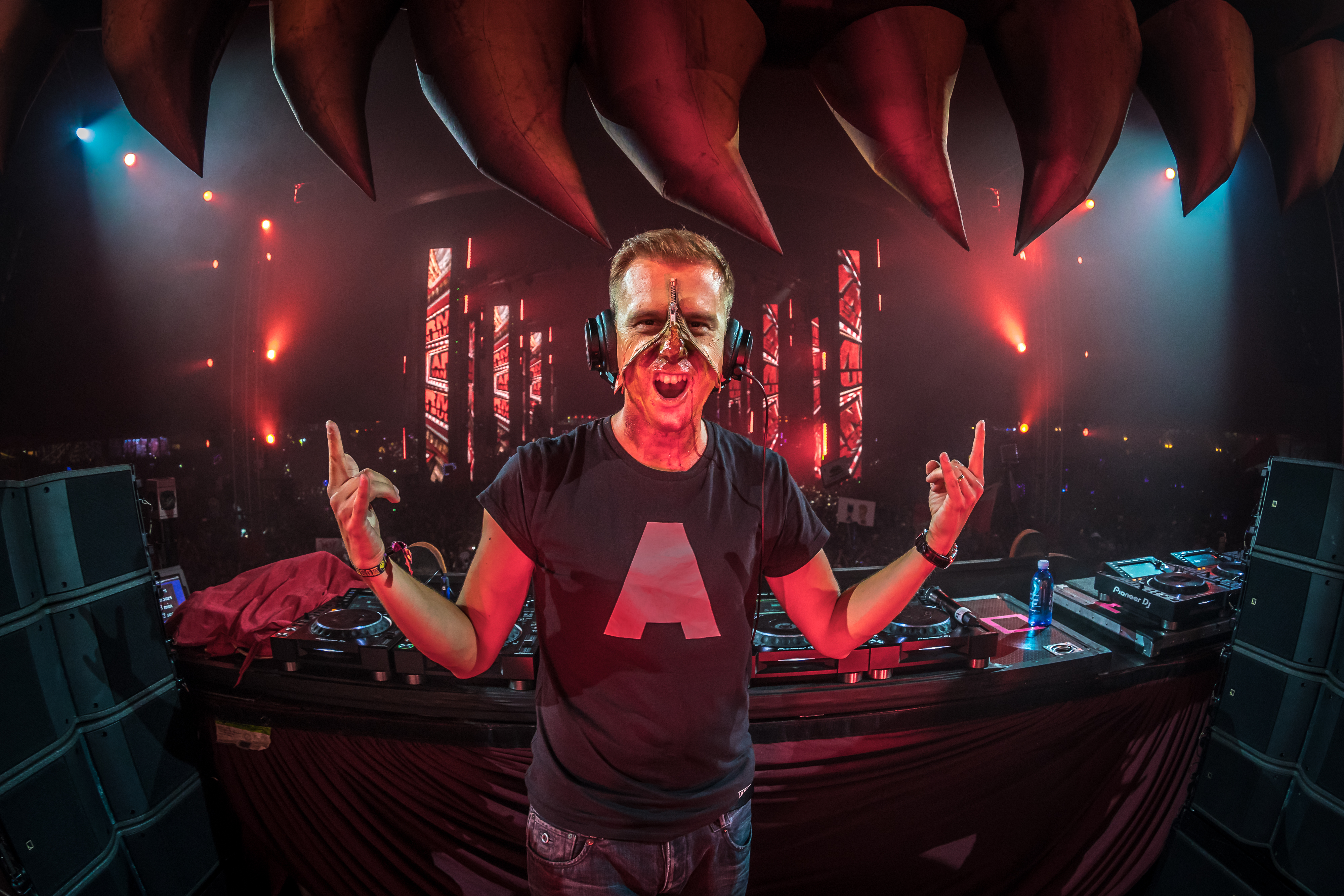 The other new addition of the weekend was the Asylum, Escape's own haunted house, think of the themed mazes they have at Universal Studios for Horror Nights. However, this was even more intense than that, they put you in a strait-jacket and put a "Jason"-style plastic mask on you and from there you walk through the Asylum in your small group. There were deranged nurses, deformed babies, guys coming out of graves, blood, gore, and even a guy getting awfully cozy with a fake horse…he told me to mind my own business when I remarked that the horse had done nothing to him. It was awesome and the perfect touch for Halloween, kudos to all of the performes inside the Asylum. It was popular too, the Asylum had a long line, but, hey, like I said, no different than if you went to Universal Studios.
I arrived at the venue on Friday around 6:00, traffic was especially brutal on this Friday afternoon. The VIP entry had no issues, and from what I heard, the GA entrance didn't have any issues yet either. I started the night off with the legendary Benny Benassi at the Slaughterhouse. He may be best known for his collaborations with Chris Brown, but this guy has been DJing forever. I saw him way back at EDC 2009 in Los Angeles (my first festival). Not only did he throw down a killer set, the nostalgia was more than enough to get me going. I'm sure I'm not the only one, the already solid crowd was chanting, "Benny, Benny!" before his set even started. The energy was incredible, and for only the third set of the day, I knew I was in for an incredible night.
After wandering around backstage for a little bit, I made my way over to Ghouls' Graveyard for Martin Solveig. Not only was I blown away by the new and improved production of the stage, Martin threw down an incredible set including hits like "Intoxicated," "The Night Out," and "+1." Solveig was on point this night, I saw him at last year's Coachella, and his Escape set blew that one out of the water. He had to be one of the more pleasant surprises of the weekend.
Back over to the Slaughterhouse after that for the real meat of Friday's lineup. The one and only Armin van Buuren was up next. Armin blew the roof off the building with a high-energy set of aggressive trance and booming progressive house. Throwing in massive hits like "Dominator," "Heading up High," "If it Ain't Dutch," and "Off the Hook" this was probably the rowdiest I ever thought A State of Trance could get. Armin is truly a legendary artist in the EDM world, and anyone with his amount of longevity commands respect. These big massive festivals, Armin was performing at them in their infant stage. Armin also gets the award for best costume/makeup as he had super intricate makeup on making it look like his face was unzipping itself, with blood on the lower half of his face.
Next up, it was time for the Chainsmokers, arguably the biggest crossover EDM artists of the moment. With the Slaughterhouse filling up, the Chainsmokers delivered. With their trademark high energy blend of bass and electro thumping away mixed in with the smooth sing alongs and grooves of all their biggest hits like "Closer," "Don't Let Me Down," and "Until You Were Gone." I was floored, the Chainsmokers delivered everything I wanted, and the energy never let up.
Hardwell was up next and he dropped his usual stellar set of pounding electro and big room, peppered with Hardwell hits and new IDs. From his new jam with Blasterjaxx, "Crazy" to his iconic W&W collabs, "Don't Stop the Madness" and "Live the Night," to his new edit of Jewelz & Sparks "Crank" and the mysterious ID "Party Til the Daylight", Hardwell did what he does best, tear up the mainstage.
As much as I was enjoying Hardwell, my festival experience would not be complete without seeing Eric Prydz for a little bit. I mentioned the improved production of Ghouls' Graveyard, but, wow, the lasers were on a whole other level. The production was going off as Prydz worked his way through a high energy set including newer hits like "Generate" and "Opus", new Pryda IDs, and a favorite of mine, his remix of the Depeche Mode classic "Personal Jesus." Cirez D made an appearance as well. Day one was epic, except when we had to get an Uber back to the hotel, but aside from that, day one was epic.
We arrived nice and early on Saturday, and traffic was not nearly the issue it was on Friday. I started the day over at the Jaegermeister House and caught some of Mark Sixma's set at Ghouls' Graveyard. At this point I decided to explore a bit more and went backstage again. I finally got to meet up with some more friends who were only able to make it for Saturday and we headed deep into the Slaughterhouse to watch the Magician. It was a cool set, he was kind of deeper and house-ier, but wasn't really my thing. It was at this point that I got invited to check out the Asylum by the Insomniac staff, so I didn't make it back to the Slaughterhouse until just before Tiesto's set at 9:30.
At this point, the NOS Events Center was getting packed, it was stuffy inside the Slaughterhouse, even in VIP. However, once Tiesto took the stage, the crowd was fixated on the legendary Dutch DJ. All was good in the world as Tiesto went through his uplifting set mixing in hits like "Red Lights," "Secrets," "The Only Way is Up," and "Split." I can only imagine how the crowd was like in there for Yellow Claw. I left the Slaughterhouse after Tiesto's to set to meet back up with friends. After a brief foray over to Cannibal's Tea Party and seeing just how packed the two indoor stages were, we went over to Ghouls' Graveyard to catch Andrew Rayel.
Andrew Rayel had to be the best surprise of the weekend. His set was incredible and I got to experience the full effect of Ghouls' Graveyard. Not only did Rayel play all forms of trance, progressive, aggressive, and uplifting, he mixed in a bunch of booming big room tracks from the likes of Hardwell and W&W, right up my alley. Andrew Rayel brought the energy and he took Ghouls' Graveyard to the next level.
As the weekend was coming to a close, we stayed inside Ghouls' Graveyard for Dash Berlin's closing set. He also delivered a high energy set of his brand of progressive house and trance. I think I enjoyed his set this year better than last year's. We made our way over to Slaughterhouse to check out some of Kaskade, but it was super-packed over there. We ended up hanging out by one of the big screens and "watching" his set from there. He did drop "I Remember."
Although Escape was not without its problems, overall, it was a resounding success. Arrests were way down compared to last year and the nonsense at Nocturnal. Insomniac head honcho Pasquale Rotella also announced several proposed fixes to issues he saw firsthand, including scalped tickets and fence hoppers, via his Facebook. Based on another social media post by Kaskade, who also recognized the over crowding at the main stage, it appears that Escape might be headed for an expansion next year. As always, Pasquale and the Insomniac are team are on it and I have no doubt they will be making sure that Escape is even better next year.
As always Insomniac brought it in terms of lineup and production, anyone who takes part in an Insomniac event will not be disappointed. Escape has its own unique charm, with everyone dressed up for Halloween, and I highly recommend it to everyone. Escape is especially a treat for first time festival goers as there is no shortage of visual stimuli. Until the Ringmaster and the Psycho Circus return next year.