It wasn't perfect, but it was one of a kind. It was a part of history. It was ours. It was Mysteryland USA.
Stepping onto the historical, legendary site of Woodstock late Friday night was anything but magical. It was already dark by the time my crew arrived, I lost my lantern immediately, and the grounds were soft and squishy, full of inches of thick mud thanks to the earlier rain showers and trampling of the previous arriving campers.
After finally stumbling upon where we would call home for the next few days, we set up camp to the sounds of Don Diablo rocking Nicky Romero's Protocol NY Reboot tent at the official pre-party, and made our way down to the Camping Circus just in time for the mystery guest: Nicky Romero himself… shocker.
Once the sun climbed over the green hills of Bethel Woods Saturday morning, already sleep-deprived campers excitedly hopped out of their tents, eager to finally enter the festival grounds. They passed around fruit cups and granola bars, or utilized their birdie bucks to buy breakfast burritos and coffee, as they were held captive on the Holy Grounds until 1 P.M., when the mystery was finally unveiled.
It was clear from the beginning that there was a huge lack of communication amongst the festival workers, as well as some unpredicted issues. We were told various places to check in, pre-loaded wristbands were cut off and replaced with new ones causing campers to lose their prior birdie bucks (Mysteryland was set to be a 'cashless' festival, where fans could load their money onto their wristbands instead of carrying around cash or cards), the rules varied from the first set of festival attendees and the second, the charging stations within the lockers people bought barely juiced their phones, there weren't nearly enough showers (baby wipes ftw), and the 'cashless system' even shut down completely for a few hours leaving those who followed the rules of not bringing money hungry and thirsty.
People complained, even taking to social media to refer to the festival as "Miseryland." Yet, as a fan first and foremost, I firmly believe that if you let those few hiccups ruin your entire Mysteryland experience, that is on you. It was the first time the 20+ year old festival was brought to America. It was the first music festival to be held on the 1969 Woodstock grounds. Of course there were going to be some issues to work out, so that it can only continue to improve in the upcoming years.
All in all, Mysteryland USA was an amazing experience. It had a little bit of something for everyone, from big name acts like Steve Aoki closing out the aesthetic Queen of Hearts themed mainstage Saturday, to catching a Vinyl Only set Sunday night by Victor Calderone, to experiencing Brennan Heart at The Sound of Q-Dance, or moshing with the bass heads to Zomboy at the vibrantly decorated Boat.
While the music is what brought the fans to the festival, Mysteryland prides itself on creating a full artistic experience for its attendees. Before his set that would close out the inaugural Mysteryland USA, Your EDM had the chance to talk with Kaskade about the festival finally making its way over to America and being on Woodstock grounds.
"It's about music AND art, the kind of blending the two worlds and I know a lot of people say that now. So that's a very cool thing for festivals. But these guys have been doing it for 20 years and that's kind of been their stance all along. So I think it's appropriate that they're here because that was the spirit of the original festival, to kind of combine music, art, culture, bring people from all over the place together…" – Kaskade
Throughout the festival and camping grounds, there were art sculptures, hand painted signs, a giant teddy bear, mock living rooms with couches, decorations (which probably could have been expanded on just a tad more), as well as a healing garden for those who wanted to turn down and relax, and a ceremony field open for meditation and various talks such as 'Neuroscience, Music, and Influence on the brain' given by Moby.
There was a hot air balloon (which had trouble working due to inclement weather) provided by Rekorderlig hard cider, plenty of places to eat unique foods at the Smorgasbord, and even some smaller stages to grab a drink and a quick dance such as Sin Salida.
We caught up with Sultan + Ned Shepard after they performed on the main stage Saturday afternoon, who also were impressed with the little, subtle artistic expressions that make up Mysteryland.
"Definitely a special energy here and I think with festivals like Mysteryland, because they put so much effort into the detail, like, the main stage looks amazing, obviously, but also the other stages look cool, the little teeny stages have little teddy bears and cool stuff. Very creative. " – Sultan + Ned Shepard
Sultan + Ned Shepard were one of the few artists who played homage to the 1969 Woodstock grounds by incorporating a bootleg of Jimi Hendrix's Purple Haze into their Mysteryland set.
"We're like 'these people won't know what we're talking about, what we're playing.' EVERYBODY knew it! As soon as we mentioned that it was Woodstock and stuff, everybody just got really excited." – Sultan + Ned Shepard
Many other artists such as Dimitri Vegas & Like Mike, who gave the audience the chance to reflect on the fact that they were standing on those historic grounds by playing a bootleg of Jefferson Airplane's Somebody To Love, were equally as excited about the location. Before kicking the festival off Saturday afternoon on the main stage, Oliver Heldens talked to us about Mysteryland being held on the site of Woodstock.
"I think it is really epic. Fifty years ago you had the big hippie festival and there's also never been another festival here. Im really excited and it is going to be a really good time!" – Oliver Heldens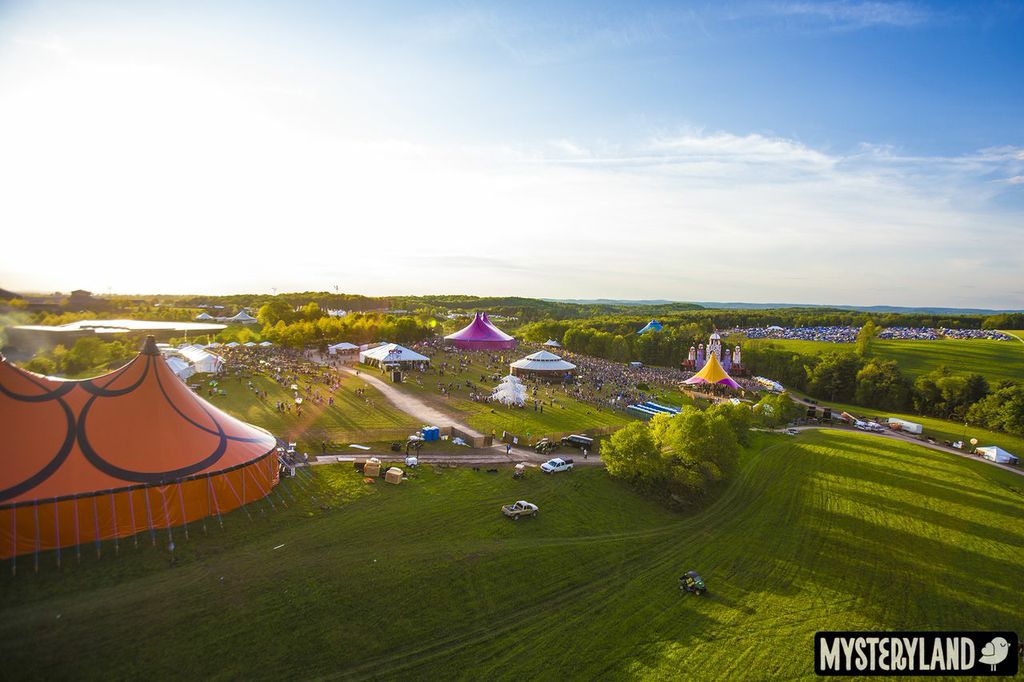 While the 21+ festival was the first Mysteryland to be in the U.S., many artists are no strangers to the original Dutch version. Sick Individuals were excited to chat with us about the differences between what they grew up with over in Holland and their new experience in Bethel Woods.
"The differences are that it's a lot bigger in Holland and it's a lot more crowded. There are also a lot more older people that go to Mysteryland in Holland as well so it makes the crowd more even. That's something you see in the U.S., it's a lot more for the younger people. We've had the music for decades and people that are now 30 or 40 also still listen to the music and they're coming over here. There's just more of a mixed crowd [in Holland]." – Sick Individuals
Although there were a few older fans in the crowd, it was primarily filled with young adults. Yet, that did not hinder the amount of good vibes that emanated from each and every corner of Mysteryland USA. In those 2 and a half days, my hope in this scene was completely restored. The overall feel of the festival was intimate; we were a community of music lovers from across the globe united to share a common interest.
"If we looked at the stage where we played main stage, the stage is really close to the people, really low so we could see everyone, feel everyone and know how they wanted the music… That makes it really nice and makes it intimate. There are also a lot of different genres here, so it's nice because maybe some hardstyle people will come over to our stage…it's just nice and it's overall a happy crowd who's excited to see which ever kind of music." – Sick Individuals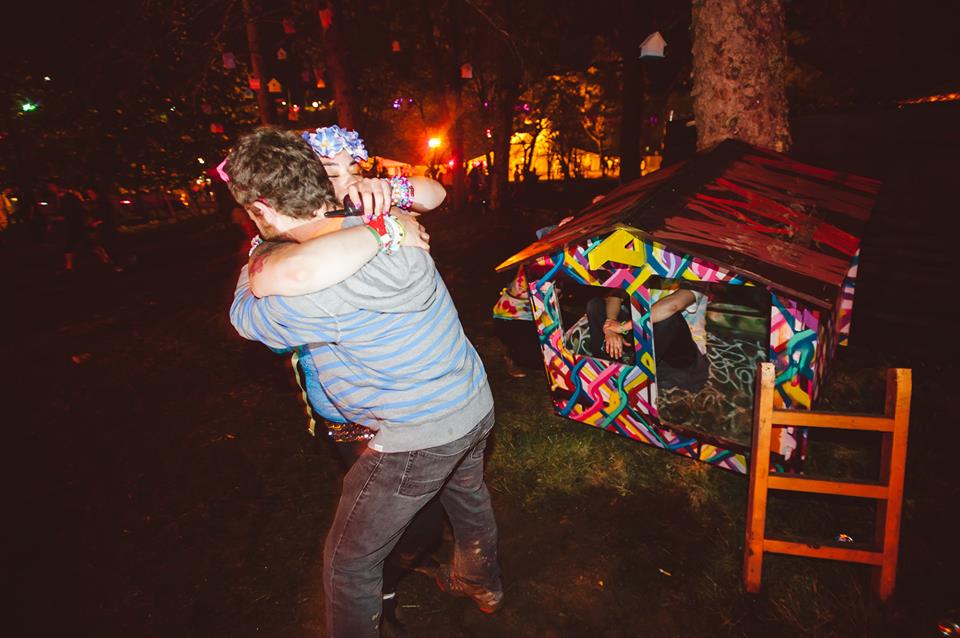 The crowd brought the peace, love, unity, and respect back into our scene. I wasn't sure if we could live up to the peaceful vibes of the hippie era, but every person I came across was there to have a good time with fellow ravers. Dancesafe set up a stand behind the Boat stage to hand out information on hydration and illicit substances, as well as condoms, stickers, and ear plugs.
The EMTs at the First Aid stands were nonjudgemental and kind, even asking me to trade them kandi in exchange for some Advil when the bass was too strong for my poor brain. I also saw a bro leave his group of bros to go help another random bro sitting down who didn't look so well, and then heard his group of bros proclaim how respectable that move was. This spirit of community extended far beyond medical necessity, the comfort and physical needs of others were met with compassion. For instance, I simply mentioned that I was thirsty at the campsite and was immediately handed a full water bottle from a generous passerby.
There was minimal pushing and fighting. The stages were spacious and energetic. Several times I was invited by complete strangers to join their group when they saw me walking alone. I didn't see many people so messed up out of their minds that they were sick on the sidelines. People were peaceful and united. But most of all, they were responsible.  "The majority of incidents tended to were injuries from falls or slips, and dehydration and heat," said Renee Hook, a contracted physician on site. The festival, which brought in approximately 20,000 fans from 27 different countries, ended with less than 20 arrests. That is a small percentage for the grand scale of Mysteryland USA. People were safe, they took care of one another, they were careful, and they were responsible.
Mysteryland was a unique festival, it dug down deep to hit the roots of this scene. It featured sounds of the underground as well as mainstream hits. Legendary artists like Moby on the main stage and Pete Tong in the Spiegeltent appealed to both young and old fans. When you didn't have bass in your face at the Boat with artists like M4SONIC, you could write your own wish on The Wishing Tree located near The Sound of Q-Dance where you'd hear the likes of Wildstylez and Coone.
Delta Heavy took a moment to speak about how Mysteryland USA differed from other festivals he has played in America.
"It's not really like many U.S. festivals I've played at. It's the setting. It feels a lot more like the UK or a European festival. Say, like, all the EDC's tend to be in sports arenas, race tracks, and it's like they're all great. Playing to 10, 15, 20 thousand people is amazing.[…] It lacks a bit of soul sometimes. Whereas when you're surrounded by trees, and beauty. This is beautiful. It's just really nice, and it's a slightly different vibe. People camping here. They have to come far. It's just a bit more organic. It's a bit more like the UK." – Delta Heavy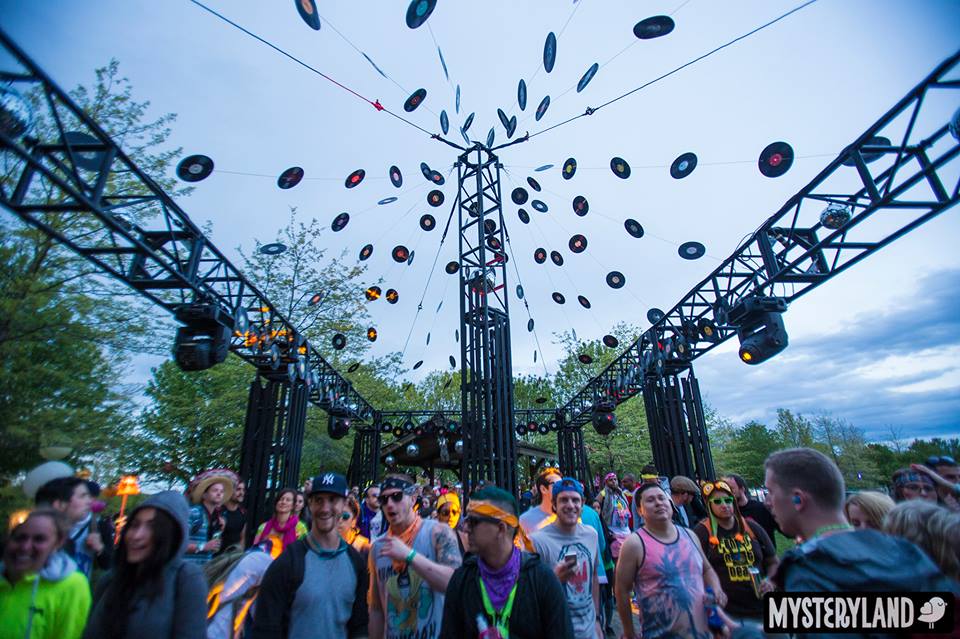 When Kaskade finished his set on the main stage Sunday night, Mysteryland had one more surprise for us: their closing ceremony.
"All beginnings must come to an end," was echoed from the stage, those words daunting the bittersweet crowd. "And so this end has its beginning."
I looked up as dancers and performers crept onto the stage in a haunting red lighting, moving jarringly to dark, heavy beats. The giant clock that adorned the castle of cards chimed. It was time to end our weekend of magic, but not before one last hoorah symbolic of what Mysteryland had aimed to accomplish.
In the next 10 minutes, the crowd of Mysteryland went on a journey that well represented the entire voyage of the weekend. The music, the lighting, and the all around production progressively got heavier, darker, scarier. The voices went from light and cheery to demonic. The dancers looked possessed. An intimidating laugh took over the loud speaker. The loneliness and hardships of the real world was felt through this performance. But then it was time to let loose once more. Fireworks went off in all their grandeur.
In the next 10 minutes, you almost forgot the festival was coming to an end as Prodigy's Smack My Bitch Up and David Guetta's remix of Avicii's Addicted To You played along side the spectacular light show and fireworks. The dancers entertained from the stage as the crowd stood as one, singing along, dancing and admiring the production, united as the EDM generation on the same grounds of Woodstock.
The inaugural Mysteryland USA ended with a message of hope, as the performers slowly crawled to the center of the stage, the center of the heart. We were all friends under that mysterious, sometimes rainy, sometimes sunny sky. We were united while stuck in inches of mud. We were there to represent the voice of our generation, the EDM generation.
The following message was inspirationally spoken as the dancers moved to unite, grabbing shoulders and hands of one another:
"Many people will walk in and out of your life. Only true friends will leave footprints in your heart. Friends, you and me. You brought another friend, and then there were three. We started our group, our circle of friends. And like that circle, there's no beginning or end. Yesterday was history. Today is a gift. Tomorrow is a mystery."
Mysteryland USA may not have made the same cultural impact Woodstock did. We are a different generation with different issues, different technologies, and different agendas. But the peace and love was there. No, it may not have made a huge cultural impact, but if more festivals start having the same incredible vibes and turnout that Mysteryland USA did, I think it's a start. As the girl who recently wrote Should We Let PLUR die?, Mysteryland has helped me confirm and reaffirm my answer: No. PLUR is alive. And we just lived it.