Ever since Isabelle Rezazadeh, a.k.a. REZZ, was featured on OWSLA's NEST HQ in their artist spotlight, she has gradually been climbing among the ranks of bass and techno fans alike. From releasing her Insurrection EP on NEST HQ's label and The Silence Is Deafening EP on deadmau5's very own mau5trap label, REZZ has solidified her dark, hypnotic sound.
With every passing show, the queen of dark techno (though her music bears no striking resemblance to techno) has amassed a cult-like following of devoted fans. One of REZZ's most noteworthy sets this year took place in her homeland of Canada at Shambhala Music Festival where she unveiled a plethora of unreleased tracks off her newly released EP, Something Wrong Here.
REZZ returns back to the spotlight this time for her second mau5trap Records release with a six-track EP titled Something Wrong Here. Listen below!
"Purple Gusher"
The first track on the EP, titled, "Purple Gusher" opens our journey through sound with a profusion of plucked eerie notes true to REZZ's signature style. The intro is followed by a crescendo, a vocal-esque synth illuminating the background of the track. The emotion felt starts to amp up once the drums and bass come into play, which are shortly minimized in importance as the lead spiraling melody begins. The moment the drop hits, my eyes were wide open with a sense of jubilance. I knew that not only was this track like nothing else I have ever heard before, but it had also just laid the foreground of what else I should expect from this beautifully weird EP.
"Selector"
"Selector" is probaly the most industrial yet simple-sounding track from the EP. It starts off with what sounds to be as if REZZ sampled an automobile engine, which then gets quickly layered over by her signature eerie-sounding notes. The rest of the track maintains a simple structure and pattern to emphasize the simplicity and rawness REZZ evokes throughout this wub-ridden ride.
"Melancholy" ft. Laura Brehm
REZZ treads among relatively new territory with "Melancholy" as it is her second time using a vocalist as a feature for an original track. REZZ's first time using a vocalist was for her track "Lost," which came out on her debut mau5trap EP The Silence Is Deafening. "Lost" featured one dance music's most sought after female voices and fellow Canadian, Delaney Jane.
This time around REZZ handpicked Boulder, Colorado musician Laura Brehm to endow the track with her tranquil voice. The comforting vocals from Laura and simplicity of production compared to some of REZZ's other tracks definitely makes "Melancholy" the most inviting to those who are unfamiliar with the queen of dark techno's abyssal sound.
"Cryptic"
With an introduction that sounds most likely to be used in a horror film score, "Cryptic" demonstrates REZZ's ability to innovate within her own spectrum of sound. REZZ keeps things relatively standard from what we've come to expect from her (which we absolutely love) as far as the break goes. She then transitions the track into a more abrasive breakbeat-inspired drop.
"Voice In The Wall"
"Voice In The Wall" was the first track off her Something Wrong Here EP, first seen on mau5trap's We Are Friends, Vol. 5. Among many other up and coming producers, it was "Voice In The Wall" that notably attracted my attention to Rezz even when paired with deadmau5's masterpiece "Saved." "Voice In The Wall" delivers all of REZZ's stylistic hallmarks including grungy sawtooth synths played over her famous unearthly chord progression atop a fierce drum pattern.
"Paranoid"
With the use of a live heart-like sounding beat combined with ambulance sirens, "Paranoid" reeks with the motif of all things mysterious. "Paranoid" is the last track on the Something Wrong Here EP and it was while listening to this track that I came to the realization that this does not suffice my personal appetite. Oh how I absolutely loved listening to this brilliantly different EP yet the simple listening alone made me crave for a full-length studio album (one can dream right?). The EP from top to bottom is absolutely novel and ingenious as each track differs from the rest. REZZ's dark atmospheric, permeating style has stayed nearly the same throughout time but her sound has shifted immensely in production and sound quality since she first rose on the scene just a couple years back. REZZ's unorthodox style has yet been mangled by other producers hoping to ride her wave and I would personally love to see what a full-length REZZ album sounds like before this newfangled genre becomes contorted.
---
If you enjoyed that EP as much as I did, make sure to check out REZZ on tour this October with none other than everyone's favorite anonymous masked DJ, MALAA. The two will be embarking on their Lunatic Tour starting October 13th and will wrap up at New York City's Webster Hall October 29th. Throughout the course of their North American tour they will be stopping in at 10 different cities across America including but not limited to: Los Angeles, Denver, Chicago and New York.
Buy tickets here: lunatictour.com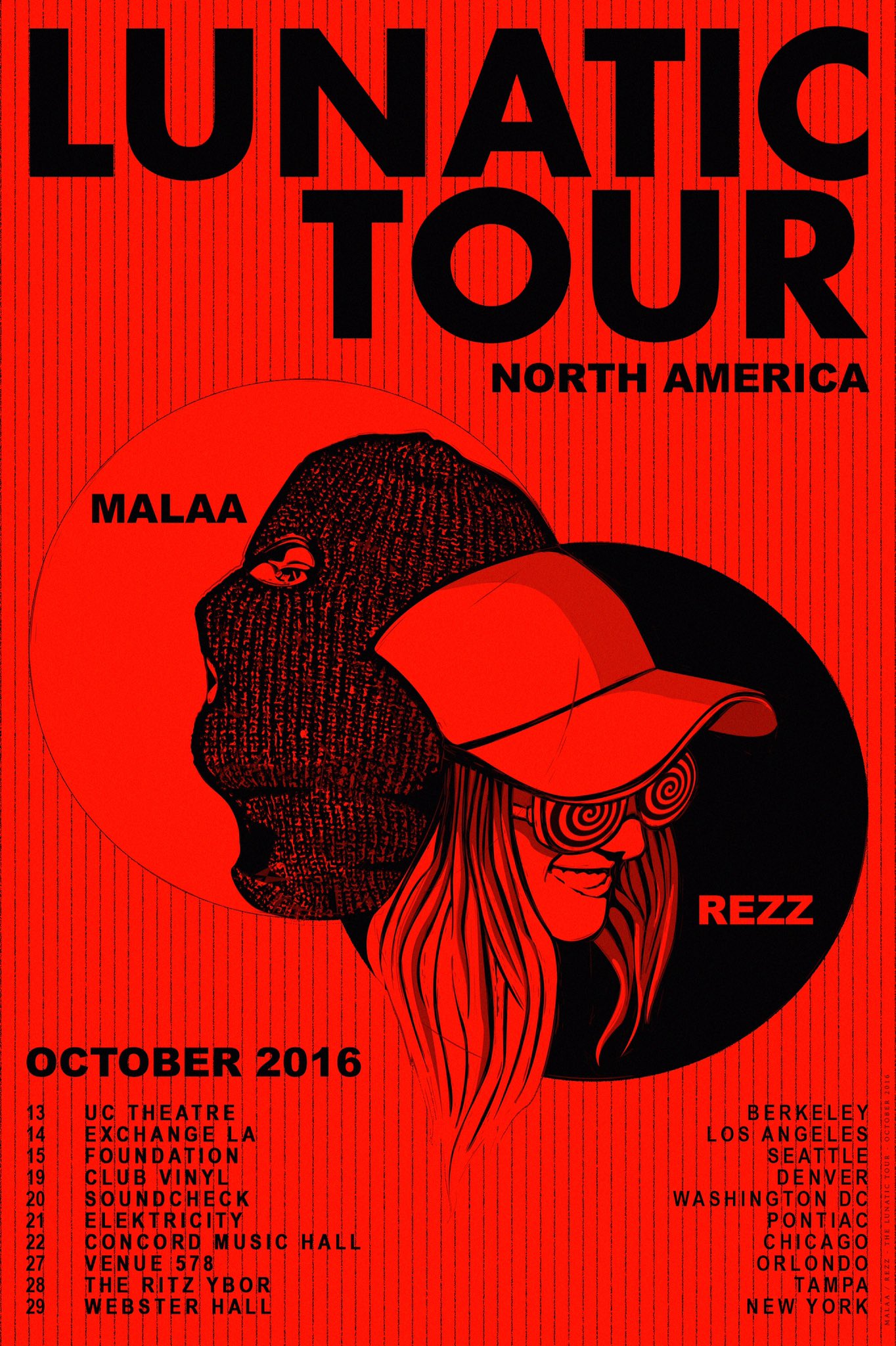 If you appreciate REZZ's tunes be sure to check her out on all her socials:
www.facebook.com/OfficialREZZ
www.twitter.com/OfficialRezz
www.soundcloud.com/official-rezz
www.instagram.com/officialrezz