If you were at the inaugural Middlelands Music Festival last year, then you know how much it hurts that it hasn't returned for 2018. The renaissance-meets-EDM festival was one of a kind, and anyone who went will tell you without a doubt it was one of their favorite festivals – it was certainly one of mine.
Fortunately, all is not lost. The festival has been confirmed returning in Spring 2019 thanks to an anonymous screengrab of a Snapchat post.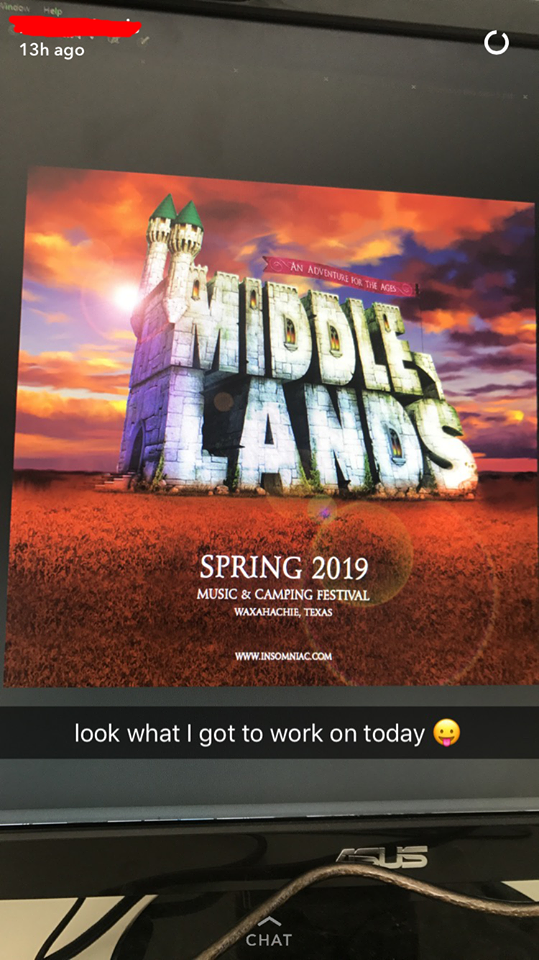 According to the graphic, Middlelands will return to a new home at Waxahachie, Texas, on the site of the Scarborough Renaissance Festival.
The inaugural Middlelands featured one of the best and most diverse lineups of any Insomniac festival ever, thanks to their partnership with C3 Presents. In addition to EDM mainstays like Alison Wonderland, Bassnectar, Kaskade, Galantis, and the like, fans could also catch sets from Crystal Castles, Danny Brown, Jurassic 5, Phantogram, Rae Sremmurd, and Lido.
Unfortunately, the festival was forced to find a new location after local residents complained about noise and traffic. Even at that time, Scarborough was mentioned as a possible site for relocation.
More news is sure to come regarding Middlelands in the coming months. If it really isn't coming back until spring next year, then we have quite a bit of time to wait until anything like a lineup makes its way out.
Regardless, Insomniac clearly had a winning formula on their hands with Middlelands, and we're more than ecstatic to see it return.
We'll be sure to update our readers with more information as it becomes available.
Insomniac did not return a request for comment.
Disclaimer: As much as we truly love Middlelands, this is unfortunately an April Fool's joke. That being said, we have all the faith in the world that Middlelands will return in 2019!
Image via Julian Cassady for Insomniac