From massive events like Electric Daisy Carnival and Tomorrowland, to smaller, community oriented showcases like Emissions West Coast Bass Culture, it's safe to say that festival season is well underway. We have a ton of these wild parties on our radar, but none have excited us quite as much as Northern Nights Music Festival, now in its second year. Nestled in the ancient redwoods of Northern California, the event reeled us in with a stunning lineup and promised a vibe not to be found anywhere else. Where else could you camp under the towering California Redwoods, float down the river listening to some of the heaviest bass-bins on the coast, and more? As it turned out, our excitement was extremely well deserved: the Northern Nights experience was one of the best we've had at a festival hands down.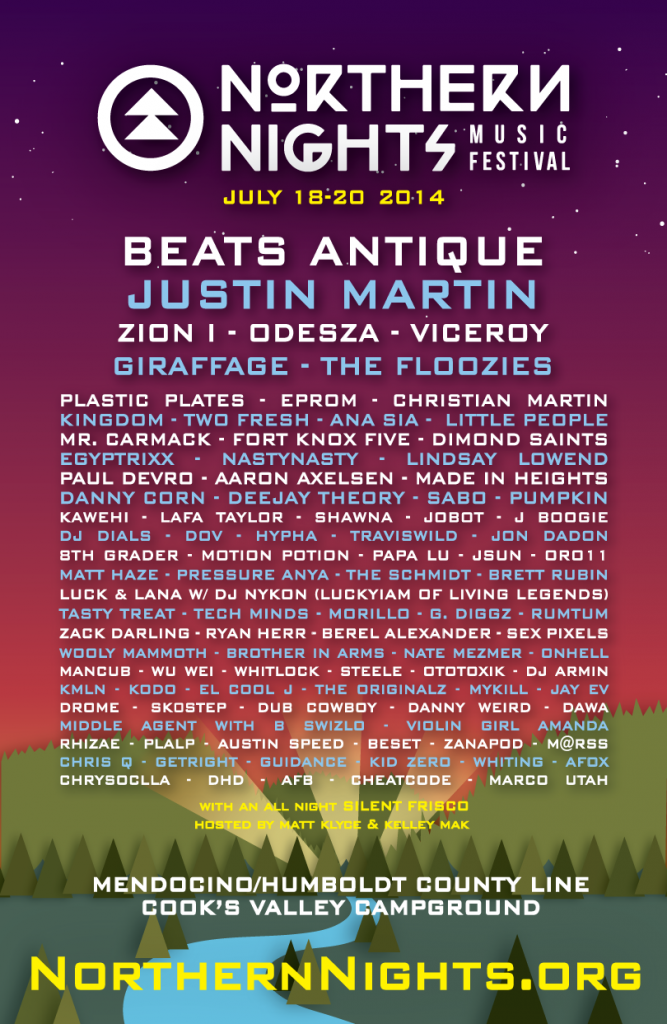 Day 1
After a slightly strenuous 6-hour drive North from Santa Cruz, California, I was supremely stoked to finally arrive at the venue. Northern Nights makes its home at Cook's Valley Campground, an absolutely gorgeous patch of land complete with a grove of some of the oldest redwood trees in the state. The site also boasted direct access to the bends and swimming holes of the South Fork Eel River, one of Northern California's most swimmable rivers. Perfect matched with its own river bar and river stage which had some solid acts playing all day long.
Actually getting into the venue ended up taking awhile. As the NNMF crew had hoped (and eventually, anticipated), the event was completely sold-out. From a crowd of roughly 2,000 people the previous year, the site doubled to over 4,000 people! This increased my excitement even more and I couldn't help but smile knowing that just past this mini traffic jam was an oasis of loud music, good craft beers, and new friends. Once we got our parking passes and wristbands, we ditched the car and began hauling our camping gear into the venue. Security at this festival was on point: they made sure to check everyone's wristbands before entry, but didn't hassle any attendee beyond that. They also had smiles on their faces more often than not and were exceedingly helpful throughout the weekend, which is just part of that Northern Nights vibe. Everyone helps co-create the complete experience, from the artists and crew to the attendees and vendors, and everyone tries to spread the love.
The front entrance led us right past the food vendors and the main stage area. This housed both the Northern Nights Stage, the largest of the three music stages, and the Off the Grid stage, a mid-size Burning Man stage that would host amplified music during parts of the day and an all-night silent disco hosted by none other than Silent Frisco. The area also contained the Vendor Village, a collection of shops with an array of handmade clothing, art, and out-of-this world jewelry. Seeing the stage so close gave me an extreme urge to just drop all my gear right there and go wiggle around on the dance floor for a bit, but I fought my jiggy-fever and continued into the campgrounds.
This was where the magic really started to take hold of me. While some latecomers ended up having to camp in an open field, the majority of the attendees camped under a canopy of massive redwood trees, ala The Grove. The Grove was always shady and cool, with long paths leading through various parts of the camp; quarters were a bit close in some areas, but this only served to turn random neighbors into fast festival friends. After setting up camp and knocking back a Sierra Nevada or four, I decided it was time to see what was going down at the main stage. This turned out to be an infinitely wonderful choice; when my group and I got to the stage, NastyNasty was bringing the heat, laying into track after track of his signature sound, a weird and gritty mixture of dubstep, trap, and grime.
While I was getting down to that, I noticed the stage's sound system and my jaw hit the floor. It was a literal wall of VOID Basscrafts, one of the most high fidelity systems ever created by man. The highly respected BassCraft Soundsystems boomed beautifully and the higher levels were crisp and clean almost all weekend. Though I didn't know it at the time, each and every stage at Northern Nights was sporting a VOID rig in some form, very impressive.
After NastyNasty finished up, it was on to the deep-house groove of Christian Martin and Plastic Plates. While this kept my head bobbing happily, it was just a prelude to the night's first headliner: the Bay Area's ever hyphy Zion I. Though I'd seen them before, I couldn't look away during this performance; the boys were on FIRE and the crowd's reaction only fueled the heat. People were dancing like there was no tomorrow, flailing their arms and wiggling their hips while others turned hula-hoops and staffs into blurring streams of multicolored lights.
Since the main stage was the only active area with music at this point of the night, I had absolutely no reason to leave and danced until I literally couldn't anymore. Once Zion I had said their goodbyes, Dirtybird favorite Justin Martin took to the stage. Going from bangin', up-tempo hip-hop back to deep house would be difficult for anyone, but Justin did it effortlessly. He maintained the energy level and used it to direct the crowd back into a groovier vibe near the end of his set. It was one of the best deep house sets I've seen thus far and a perfect way to end Day 1. I decided to forego the silent disco for the night and passed out with a gigantic smile on my face.
Day 2
On Saturday morning, we awoke to some excellent breakfast served up by our friends at the Vital Events camp before I wandered off to check out the Off the Grid stage for some early morning yoga. The yoga and the forest air combined with a strong cup of coffee was just the thing I needed to set me straight after last night's shenanigans. When I finally got back to camp after many a detour, the sun had burned off the gentle blanket of morning fog and it was getting hot, so hot that cold beer just wasn't cutting it anymore, so we grabbed our tubes and hit the river. It's a good thing we did too or we would've missed one of my favorite performances of the weekend.
The river stage was the coolest looking stage next to the silent disco stage. It was all beautiful pieces of interlocking redwood with basscraft voids adorning the outside. All this was just fifty or so feet from the water, where an aquatic party was taking place aboard rafts and floaties of all shapes and sizes. As I floated along with a convoy of friends in inflatable rafts, feeling the sun and the bass wipe all my problems away, I knew that there was no where else on earth I'd rather be. This is how you throw a festival.
When Ana Sia came on the music was so good we had no choice but to come ashore and party. The crowd in front of the river stage was large and rowdy as all hell by the time we dragged ourselves out of the water, but after grabbing a beer from the bar we slipped right in there for the rest of her fantastically thugged out set. After she was done, Pumpkin came on and laid down an epic house music set that immediately put him on my radar. If house is your thing and you don't know Pumpkin, then you are missing out. Something tells me we will be hearing a lot more of this guy as the year progresses, as it was definitely one of the best performances of the weekend.
That was the last set at the river stage, so we decided to haul our sun soaked selves back to camp for a brief siesta before the night began. At least that was the plan, until we walked past the main stage and heard the last half of Lindsay Lowend's set. This kid is definitely going to places with his trapped-out, glitchy sound. After listening to him we were in full party mode, siesta be damned. It was a good thing we were too, because the lineup after Lindsay was relentless. Two Fresh, Dimond Saints, The Floozies, Viceroy and Beats Antique all delivered wonderful performances and we had a blast all night. My favorite of the five had to be The Floozies. These two guys were awesome; one played the drums while another handled the laptop and played some absolutely killer electric guitar. It was the perfect combination of rock, funk, and EDM that until now I had thought was impossible to achieve. I would definitely recommend these guys to anyone who has a deep love of music.
After Beats Antique finished up, the rest of the night is a bit blurry. However, I do know that the silent disco was the place to be if you weren't partying at one of the innumerable camp sites in the forest or checking out comedy at the Grove stage. The musical diverity of the whole festival was fantastic, but it was especially prevalent at the silent disco. Silent Frisco went all out to make sure there was never a dull moment for the late night partiers. Not only that, the stage was equipped with epic laser setups and one of the most immersive, trippy projection mapping rigs I've ever experienced. There was so much to see and do at night during this festival; it was incredibly easy to party until sunrise, and party 'til sunrise we did.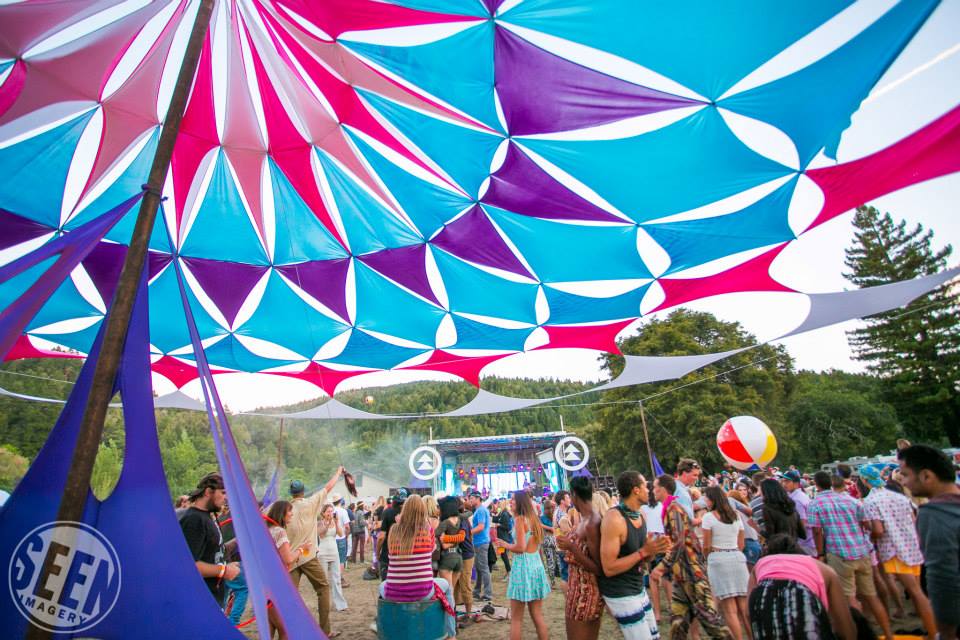 Day 3
When I finally woke up on Sunday morning, there was a definite change in the air. This was our last day to spend here and anticipation was running high throughout the campgrounds. While some attendees had decided to pack up and leave early, those that were staying knew the festival was building toward it's climax; this was what we'd all been eagerly waiting for. While the scheduling at Northern Nights was fantastic all around (lots of diversity every day, few if any conflicting set times), I don't think it's a much of a stretch to say that the third night's lineup was absolutely STACKED. My plan was to rest up during the heat of the day and wait for the main stage to start up that evening, but let's be real, how could I have done that? With performances from the likes of Hypha and J Boogie on the River stage and the always-on-point Subconscious at the Off the Grid stage, I was out dancing far more often than I was resting.
Time not spent on the dance floor was devoted to floating around in the river, chilling in the campgrounds with our friends from Vital Events and Euphoric Styles, and positive networking at the press lounge. Everyone on the crew we met back there was easy to talk to and super helpful; some of the best people at Northern Nights were definitely located behind the scenes. As luck would have it, we even managed to snag an interview with ODESZA, one of the hottest new acts on the scene and the night's headliners. (Interview coming out later next week) After chatting with them for awhile, my excitement was reaching peak levels. Fortunately for me, the main stage was up and running at this point and it was time to get down to some Wu Wei.
Wu Wei's performance kicked off the start of an absolutely insane final night. After solid sets from Sabo and Fort Knox Five, it was finally time for the set I'd been waiting for since the lineup was released months ago: Mr. Carmack. His blend of forward thinking, beat focused bass music is one of the freshest in the game and his performance highlighted that fact without a shadow of a doubt; he even brought Bay Area native A-1 out to MC and party with him.
After Mr. Carmack hopped off the decks, it was like the domino effect had been activated: set after set of amazing music filled my ears and enveloped by body in bass. EPROM crushed it, Giraffage crushed it, and ODESZA most definitely CRUSHED it. The crowd went progressively wilder as the night continued and the artists were definitely reacting to that energy; it was a beautiful sight to behold. ODESZA had everyone in the palms of their hands, fusing hard hitting beats with emotion soaked synths and melodies to close out the main stage in style.
The highlight of these performances was most definitely EPROM. Holy f**king sh*t, EPROM. Giraffage and ODESZA were beyond excellent as well, but oh my goodness, this madman stole the show. EPROM's music has no genre. It's dirty, heavy, aggressive, and simple. It sounds like a computer virus infecting a transformer. His music on the VOID Basscraft system was unbelievable and I found my jaw dropping more than once. He even debuted a brand new song for his encore that was simply monstrous. This man is creating a whole new genre of bass music, and it is absolutely glorious.
Late Sunday night saw some serious partying. Everyone was buzzing after ODESZA's electric closing performance and it showed. At the silent disco, things got crazy as Tasty Treat & Rhizae played my last two favorite sets of the festival. Later on, I even wandered into a burlesque show at the Grove stage, which was entertaining to say the least. The energy coming off the all people partying like tomorrow wouldn't come was infectious and I didn't sleep until we were packed up and headed home. It was the perfect way to end the weekend and I wouldn't have had it any other way.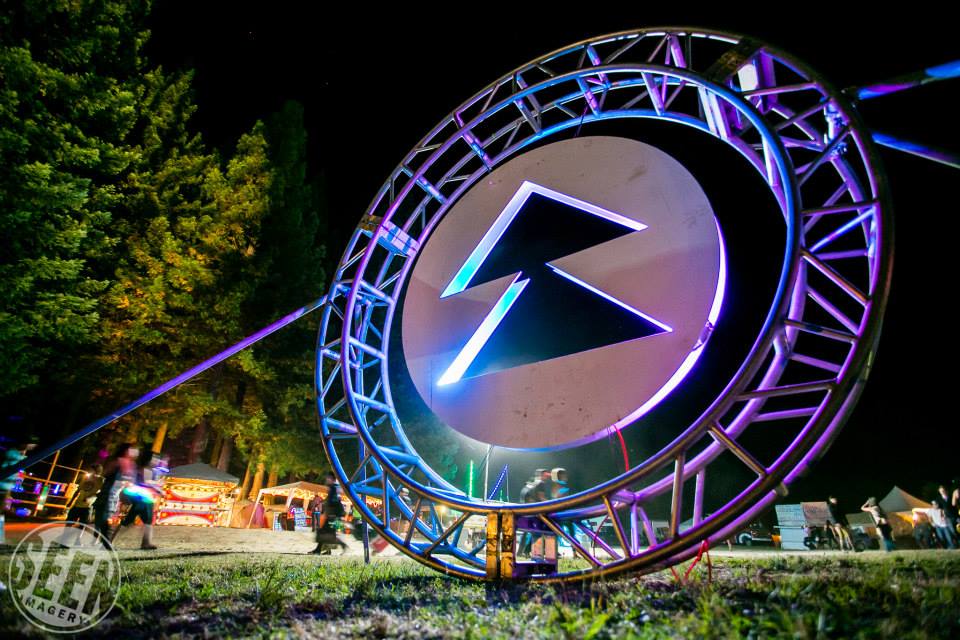 In short, Northern Nights set the standard for how Northern California music festivals should be done or any camping festival for that matter. The identity of a festival really starts to develop in its second year and we were beyond stoked to see Northern Nights developing into something so positive and forward thinking. BLAP Productions, World Famous Productions, EPIC Productions, & Eye Heart SF did an phenomenal job with this event and it was strikingly apparent just how passionate they are about what they do. We are so grateful to have been a part of the collective Northern Nights experience and absolutely can't wait to see what they dream up next year. Keep this festival on your radar, it's only going to get bigger and better!
Contributing Writer: Theo Newhall
Photo Credit: SEEN Imagery & Deviant Spectrum Photography