Coachella is just days away, and more details are coming out about this year's festival. Set times are still unavailable, but the map for this year has been uncovered.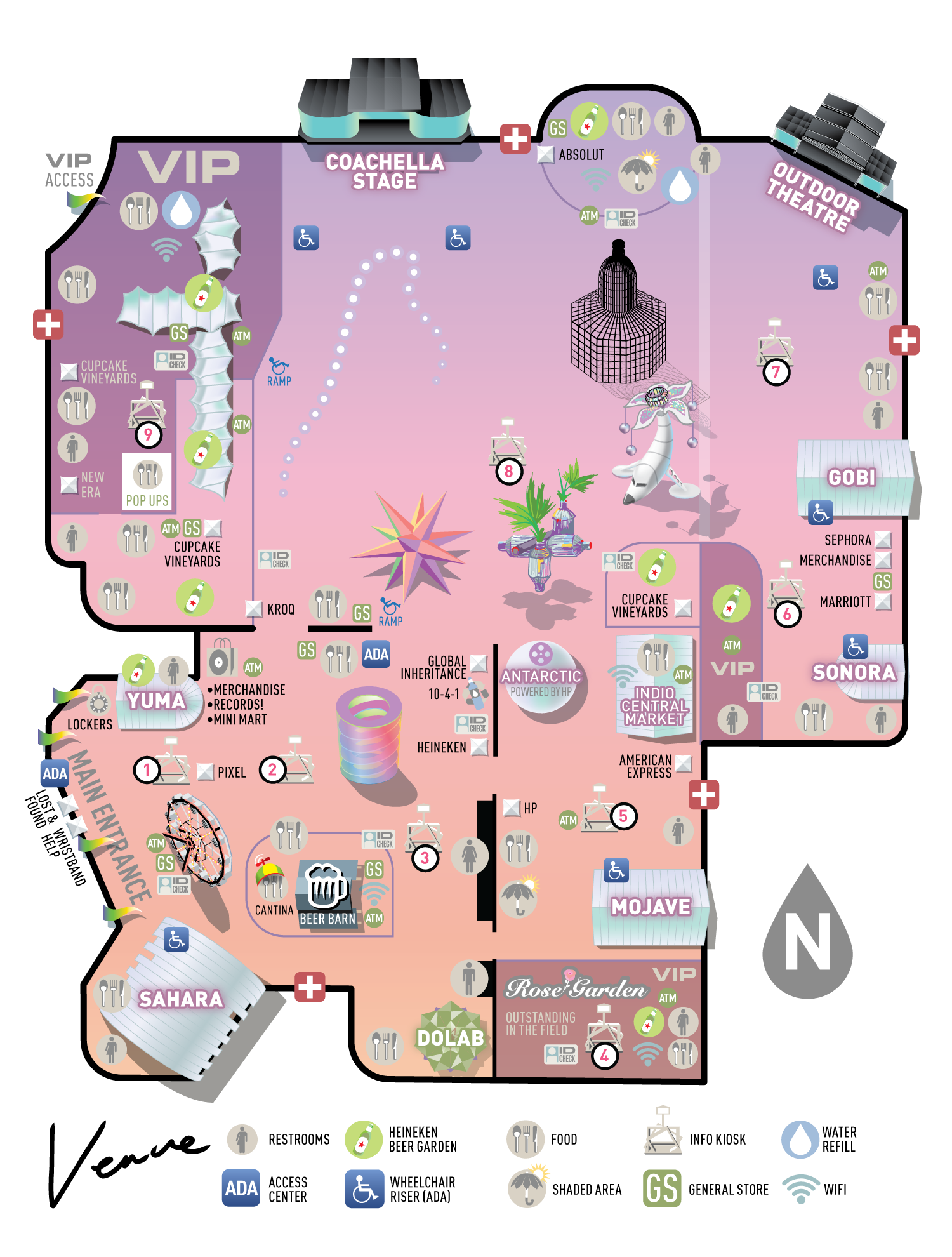 If the map is any indication, there are a ton of changes coming to Coachella this year. First, the Sahara stage is confirmed to be moving as we reported a few weeks ago. The Sahara moved from being next to the Rose Garden VIP area to being right next to the festival entrance. The Do LaB stage remains in its same spot, but the boundary separating it directly from the entrance has been removed. The Yuma tent remains in its spot from last year as well. This means that Coachella's three main electronic stages sit together near the entrance.
The Coachella Stage and Outdoor Theater remain in their same spots from last year, likely due to their sheer size and crowd spaces. But, the Gobi, Mojave and Sonora stages have swapped a bit from last year. The Mojave now sits where the Sahara used to be, next to the Rose Garden VIP area. The Gobi has taken Mojave's old location next to the Outdoor Theater, and the Sonora now sits next to Gobi in the Gobi's old location. The Antarctic tent has moved from being accessible via the campgrounds to now being right in the middle of the festival.
The map also shows what the new art pieces look like this year, including some large structures near the Coachella Stage and Outdoor Theater. Also, a new space called the Indio Central Market sits next to the Antarctic.
The biggest criticism of the map is that it only shows a total of two water refill stations for the entire festival grounds. Even festivals with fewer people – e.g., HARD Summer – went out of their way to provide an abundance of water refill areas last year. In fact, last year's Coachella map showed nine stations. As it turns out, the map released by Coachella isn't accurate. An attendee reached out to the festival via email, who responded, "There are multiple water refill stations. Not sure what happened with the map but it's getting updated. You won't go thirsty."
We'll have more for you once set times are officially announced!
Cover Photo: Rukes